Premier League: Steven Naismith and Tim Howard delighted by Everton's win over Arsenal
Steven Naismith was thrilled to play his part in a wonderful Everton performance after the 3-0 win over Arsenal.
Last Updated: 06/04/14 4:58pm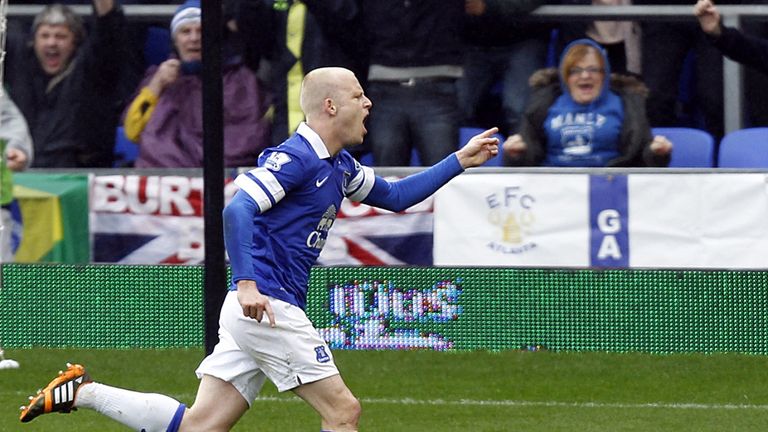 Naismith broke the deadlock after 14 minutes of Sunday's Premier League clash at Goodison Park when he reacted quickly to a rebound, and Romelu Lukaku then added a second in the 34th minute.
Everton's third goal came just after the hour mark as Mikel Arteta turned the ball into his own net as he attempted to stop Kevin Mirallas from having an easy tap-in.
Man of the match Naismith told Sky Sports: "Throughout the match, I thought we got the better of possession, starting all the way from the back. James (McCarthy) and Gaz (Gareth Barry) in centre-mid dictated play quite a lot and they created many chances, so it worked well."
Roberto Martinez made a couple of changes, putting Lukaku out on the right, with Naismith playing a more central role and the Scot said it was a success.
He added: "It worked very well, we've worked on it this week.
"It was more about trying to occupy the Arsenal defence and I thought Rom and Kev led by example doing that. They created space for me in the middle to link up and make runs through and I think for Kev's goal (the Arteta own goal) it worked perfectly.
"Kev's got on the ball and played me through and he's managed to get on the end it."
The win moved Everton to within a point of their fourth-placed opponents with a game in hand, leaving their chances for Champions League qualification in their own hands.
And Naismith believes finishing in the top four would mean the world to the club and their fans but they must take it one game at a time, starting with next weekend's clash at Sunderland.
He said: "It would mean everything.
"We've believed from the start of the season and it just shows in these performances so we just need to concentrate on next week and hopefully get the points in."
Goalkeeper Tim Howard echoed his team-mate's confidence of a top-four end to the season and said: "We have to believe that (we'll finish top four) as we run out of games. We'd like to think we can.
"That was certainly one of our signature performances since I've been here at Everton.
"The way we controlled the game, scored the goals and kept it clean at the back - I thought it was a brilliant performance."