Premier League: Roberto Martinez staying grounded after Everton's win over Arsenal
Roberto Martinez insisted there was still a long way to go in the battle for fourth after Everton beat Arsenal 3-0.
Last Updated: 07/04/14 10:57am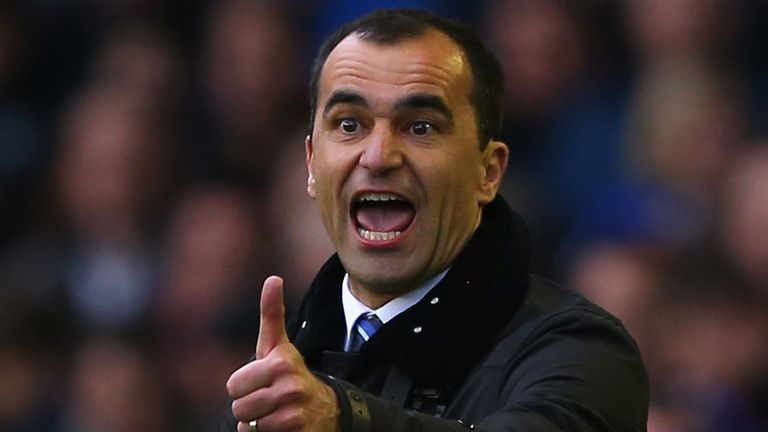 Strikes from Steven Naismith and Romelu Lukaku, as well as a Mikel Arteta own goal, sealed a convincing victory for Everton at Goodison Park.
They are still in fifth spot but are now just a point behind the Gunners with a game in hand, and Martinez paid tribute to a complete performance from his players.
He told Sky Sports: "We had to be perfect in every aspect of the game. I thought we were compact, defended really well, and I thought the tactical awareness of the players was magnificent
"I thought the way we broke on the counter-attack we were a real threat, and the movement from the front three was electrifying at times.
"We managed the game really well and to keep a clean sheet and carry the threat we did was very pleasing."
Asked if it was a display reminiscent of an old Arsenal side, Martinez added: "I think you want to be yourselves but it is an incredible compliment.
"We will keep working hard to try and fulfil our potential. The competition we have we have for places and the attitude of the players is incredible."
Martinez, who also thanked Everton's fans for their support, played down suggestions that his side were now favourites to finish fourth as he kept his focus on next week's trip to Sunderland.
He explained: "Not to sound too romantic about it, but I said before the game that whatever happened there would still be 18 points to fight for.
"It is very important that we recover well and get ready for next Saturday, which is another big final for us.
"The pressure is the pressure that we put on ourselves. 63 points after 32 games, that is the pressure that we have been working towards, to try and achieve as many points as we can.
"It is important that we don't lose players and we get everyone refreshed and ready, so nothing changes."
Leon Osman had to be replaced after just seven minutes following a challenge with Bacary Sagna.
He required immediate treatment and received five stitches above his left eye, while he is also suffering from concussion, but Martinez reported that his vice-captain should be available to face Sunderland.
"Leon's really lucky to avoid serious injury," Martinez told the club's official website. "He's got a nasty cut that needed stitches on top of his eye and his eyelid was affected.
"But he's fine and will be fine for the weekend."