Premier League: Roberto Martinez calls on Everton players to enjoy the battle for fourth
Roberto Martinez has urged his Everton players to 'embrace expectations' as they close in on a top-four finish.
Last Updated: 08/04/14 3:52pm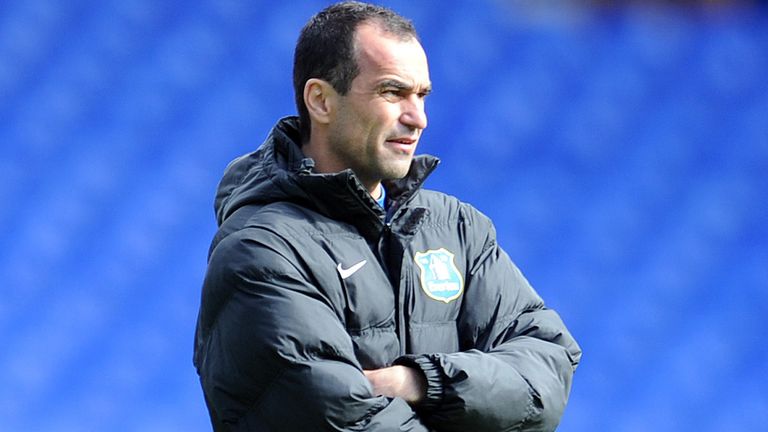 Sunday's 3-0 victory over Arsenal - their sixth win in a row - lifted them to within a point of the Londoners in fifth place with a game in hand.
A Champions League finish is now in the club's own hands and Martinez is convinced the momentum his side have gathered in recent weeks will stand them in good stead for the final matches of the campaign.
Speaking at an open day for the club's young supporters, Martinez said: "It was a very important game. Goodison creates a great experience and the fans are always influential.
"That is why it is good to have the open-day training where we can enjoy the presence of our younger fans and everyone can enjoy the good feeling of the team's good form.
"We embrace the expectations. It's very difficult to change the perception of which teams are going to challenge for the top four or for the title. The Premier League is the best league in world football due to the competitive edge that it has and for us to be involved in this fight is exactly what we were looking for.
"That's been down to the good work of the players for the last 10 months, but now we've got 18 points to fight for and we're realistic.
"Whatever aim you are fighting for, when you go into the final 30 points of the season - that's the significant time of the campaign to have momentum and be fresh. We have very good momentum, we have terrific competition for places.
"The mindset of the players is very important. Even those who are out injured contribute in the week. We are ready, excited and we can't wait to give everything we've got for the last 18 points."
Teenage defender John Stones played a leading role in Sunday's victory and Martinez is predicting a big future at the highest level for the 19-year-old.
"His quality is not a surprise because I had the opportunity to follow his development when he was coming through at Barnsley and he has grown into a phenomenal footballer," said Martinez, who tried to sign him while in charge of Wigan.
"We had a friendly against Juventus in pre-season and I saw then he was ready for this season. Phil Jagielka has been instrumental in giving him advice and helping him through, but as a centre-half he is as good as it gets, and he is only 19.
"We need to allow him to develop, but he's a joy to have in the squad. He's so calm and composed on the ball and in the same way so aggressive in his defending. We are all excited about his development.
"He is going to have an England role. He is going to be an important player for English football, but we need to give him time and allow him to enjoy his football.
"His focus should be to keep his place and to make sure he doesn't drop his standard from now until the end of the season."
And Martinez has played down suggestions skipper Leon Osman is facing a lengthy spell on the sidelines after being forced off the field just eight minutes into the Arsenal game.
Osman, who has been granted a testimonial match later this year, suffered a cut above his left eye, which required stitches, following a clash with Arsenal right-back Bacary Sagna.
Early indications were the 32-year-old could be missing for a vital part of the run-in but Martinez said: "He's reacted well. We have been fortunate as it was a difficult incident.
"He had a cut on his eyebrow and eyelid and it could have been dangerous. He started the game really well, as a true captain and he was devastated to miss the rest of the game. We are going to reassess him. He was fine yesterday and hopefully he will be in the squad for Saturday."