Premier League: Everton midfielder Ross Barkley wants top-four finish
Ross Barkley wants Everton to take the confidence gained from beating Arsenal into the final six games of the season.
Last Updated: 09/04/14 9:37am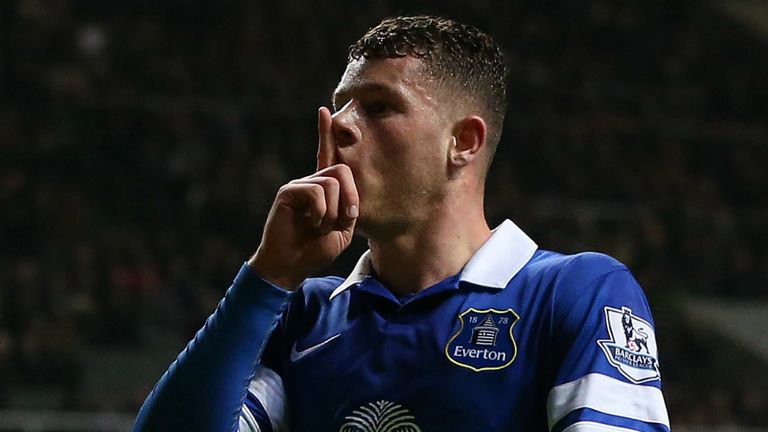 Everton won 3-0 at Goodison Park on Sunday to close to within a point of fourth-placed Arsenal and Roberto Martinez's side also have a game in hand.
Barkley, who appeared as an early substitute following an injury to Leon Osman, enjoyed the victory over Arsenal and is targeting a top-four spot on the back of six consecutive Premier League wins.
"We've got to go into the games now thinking we can get as many points as possible," the England midfielder told evertontv.
"We've done well on the pitch and that can give us confidence going into the rest of the games.
"You can see that we are good enough to be in the top four. On our day we can beat anyone."
He added: "I'm always disappointed not to start but it's a team game and I was sat on the bench watching. Ossie went off, I went on and I enjoyed it.
"I love the big games. You've got to step up and shine and show what you are capable of."
Meanwhile, Everton boss Martinez has praised the quality of Barkley's passing in the success over Arsenal, saying: "He was always in control.
"For the first time he had the highest passing percentage in midfield, he made more passes than any other midfielders.
"That was impressive for someone so young in the middle of that war we had with their midfield.
"I wasn't sure with his calf injury against Fulham whether Ross could do 90 minutes, especially after three games in a week. That was a concern. But even at the end he looked like he could go on for another half an hour, he was so dominant.
"To have a player aged 20 showing all those signs is remarkable. For him to come up as the outstanding figure reflects how far he has come.
"It is a great balance between his natural talent and rational approach."