Premier League: Everton boss Roberto Martinez says Sunderland could be dangerous
Everton manager Roberto Martinez says his Champions League-chasing side are wary of the threat Sunderland pose.
Last Updated: 12/04/14 2:19pm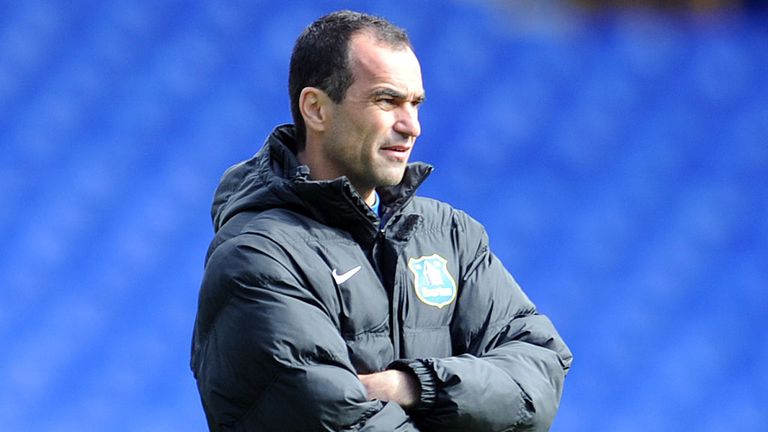 Martinez's men are enjoying a superb season and will go fourth in the table if they avoid defeat at the Stadium of Light on Saturday.
Sunderland, meanwhile, have endured a tough campaign and are currently bottom of the table, seven points away from safety.
However, although Wigan went down under Martinez last term, he masterminded an incredible escape in 2011/12 and does not think Sunderland are a forlorn cause.
"I've seen it first hand," said Martinez. "You can use those emotions in the right way and use them to your advantage.
"You get through the hurt of seeing that you could lose your place in the division. That is difficult, but then you accept that you have an opportunity to achieve your aim of staying up, and that is a significant moment.
"Those emotions affect the way the team plays, and Sunderland have seven games left, more than any other team in that area. It is still very much in their hands."
Martinez is operating at a different end of the table himself this season compared to last but says there are a lot of similarities between the two mind-sets.
"I think it is exactly the same, if I am completely honest," he said.
"It is being able to focus on the game itself, understanding the intensity and the focus you need in every action.
"In every season, whatever you are playing for, it comes down to the final points you are playing for. Whether it is for staying in the league, making the top four or winning the title, it is exactly the same.
"Looking back at other seasons with Wigan, we managed to get seven wins out of the last nine, and that is the intensity you need to have in any aim you are fighting for."