Premier League: Everton's strong mentality key for Roberto Martinez
Roberto Martinez believes Everton's strong mentality could be a crucial factor in the battle for fourth place.
Last Updated: 16/04/14 7:46am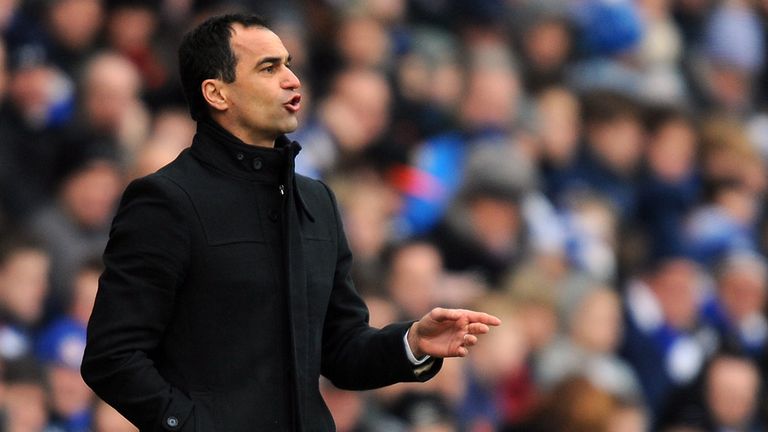 The Toffees take on Crystal Palace at Goodison Park on Wednesday night as they bid to leapfrog Arsenal in the table once again.
The Gunners moved back into fourth spot - a point clear of Everton - by beating West Ham 3-1 on Tuesday, although they have now played a game more than Martinez's men.
Everton are enjoying their best winning league run since the 1980s and will look to make it eight victories in a row against Palace.
The club have qualified for the Champions League just once in the Premier
League era, while Arsenal are bidding to do so for the 18th consecutive season.
Asked whether the mental side could prove the difference, Martinez said: "It always is, and not just for us but for every team that goes into meaningful games.
"You only decide games on technical, tactical and physical aspects when they don't mean much.
"When there is a real meaning in every point that you play for, psychologically you need to be very strong, and probably that's a big advantage that we have, and we've shown that in the last seven or eight weeks.
"The team is focused, the football club is focused and we are very much all together fighting for the same aim. Psychologically we've got that winning mentality that you need.
"When you get into a position like we are, it's a little bit unknown ground breaking through the points tally that we have.
"Psychologically we're taking a very simple approach, trying to give everything that we've got and everything we've learned over the last 10 months to be as competitive as we can in every game."
The 1-0 victory over Sunderland at the Stadium of Light at the weekend took Everton to 66 points, setting a new record for their highest total in the Premier League.
While Martinez is focusing on the clash with in-form Palace, who have won their last three games, he also believes looking at the bigger picture is essential.
He said: "I always take the same approach that in the final third of the season you need to have a little bit of an overall view, and I think we've been doing that.
"What I've been pleased about is we've been using the whole squad available, the players are looking ready, fresh and sharp.
"We do look at the maximum points that we can fight for, and with the amount of points we have now and the 15 we can fight for, it's a really exciting end to the season for us."