Manchester United boss David Moyes braced for hostile Everton reception
Manchester United manager David Moyes is expecting a hostile reception when he returns to Goodison Park this afternoon.
Last Updated: 20/04/14 10:29am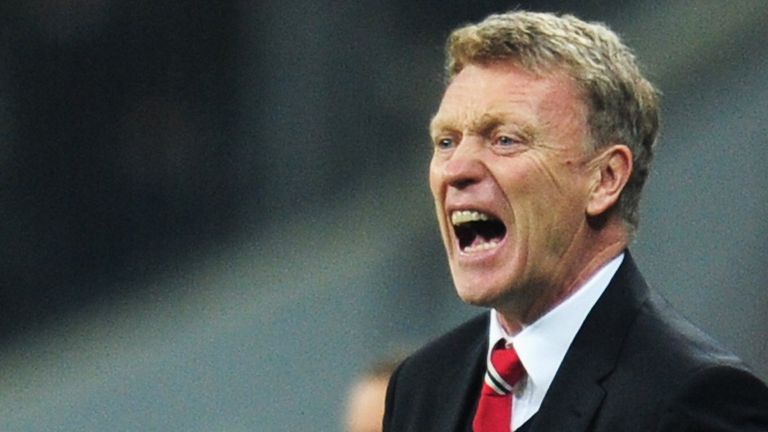 Moyes was barracked by a section of visiting fans when Everton beat United 1-0 at Old Trafford in December and it is expected that, despite the pleas from his successor Roberto Martinez, he will be subjected to similar abuse when he returns.
Some Everton fans are still upset at the way their former manager signed Marouane Fellaini and tried to lure Leighton Baines back in the summer.
But the United manager, who spent 11 years in charge at Everton, is trying to turn the focus to the teams on the pitch, rather than himself.
Just after the defeat at Old Trafford, Moyes was forced to deny claims he branded Everton fans a "disgrace" for the barracking they gave him.
"You get on with your job," said Moyes when asked how he felt after being verbally abused by Everton fans.
"I am Manchester United manager now and that is what I concentrate on, this game is not about me, it's about Everton and Manchester United.
"This was the first game I looked for when the fixture list came out.
"I was always thinking when would I first be going back to Goodison. I will go back with great memories. I had great times there. It will be a strange day, but I'm looking forward to it.
"I go there as manager of Manchester United and I'm delighted to be that. I was proud to be manager of Everton at that time but my job now is to make sure I get a result for United.
"The Everton fans were always terrific in my time there - very supportive and always right behind the team. We go there with a great away record and go there trying to keep that going."
United have had a poor season as Moyes has struggled to replace Sir Alex Ferguson at the Old Trafford helm - it will be a trophyless season for the club who languish in seventh place in the Premier League, and trail his former club by nine points.
The under-fire United boss admits it is almost "mathematically impossible" to catch Everton - but the Scot does not begrudge his old side any success.
He added: "I'm looking forward to going back as I had some great times and worked with great people and, more importantly, some great players.
"They were terrific and I'm really pleased to see them doing well. Roberto has done a brilliant job there in the time he has been in charge.
"He's got them playing well and in a good, healthy league position so I go back with some great feelings but I'm back now as Manchester United manager and my focus is on that now."
Watch Everton v Manchester United live on Sky Sports 1 from 4pm, Sunday