Premier League: Roberto Martinez takes positives after Everton's loss to Manchester City
Roberto Martinez refused to be too downcast after Everton's top-four bid came to an end, and praised Ross Barkley.
Last Updated: 03/05/14 9:34pm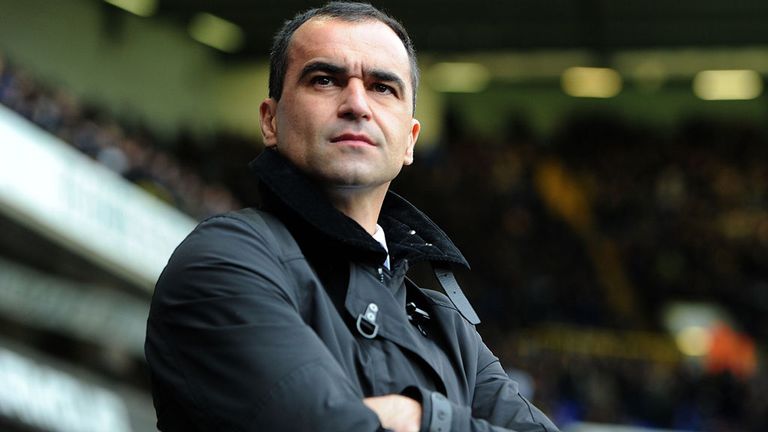 Barkley is part of an exciting young squad which has amassed a record points tally for Everton in the Premier League of 69, although they can no longer qualify for the UEFA Champions League after losing 3-2 to Manchester City.
Martinez admitted there was a tinge of disappointment in the Everton camp after the final whistle but he is looking forward to a bright future at Goodison Park, which will continue next season with a Europa League campaign.
"There are mixed emotions. Overall it has been a tremendous season," he told Sky Sports.
"Today's game showed the belief that we have and there is a lot to be excited about for the future. We have taken real strides forward and the football has been outstanding.
"Everyone is a little bit down because we wanted to finish the season with a real fight for the Champions League spots, but you cannot be too disappointed.
"If we can get into Europe it will be a magnificent achievement."
Barkley opened the scoring for Everton with a wonderful strike from distance before Sergio Aguero responded for City and Edin Dzeko netted twice to make it 3-1.
Romelu Lukaku pulled a goal back for the hosts and Martinez was proud of his side's performance, although he admitted they were punished for mistakes in defence.
He said: "I think it was a fantastic game. I thought we were well in control and Ross Barkley's goal was absolutely phenomenal, but probably defensively we weren't as intense as we normally are."
England manager Roy Hodgson was in attendance at Goodison Park and Martinez thinks Barkley will have captured his attention.
"He is a young man and we tend to get carried away too quickly, but if you ask me he is unique," said Martinez.
"The balance he has on the ball, his technical ability and mentality, he can offer something very different to the England squad.
"If the England manager thinks that he can offer something now, great, nothing will faze him. If not, he is still young and is going to grow into something unique in English football."