Premier League: Everton captain Phil Jagielka hopes for summer squad additions
Everton captain Phil Jagielka is hoping that the club can bring in some quality additions in the summer.
Last Updated: 05/05/14 1:29pm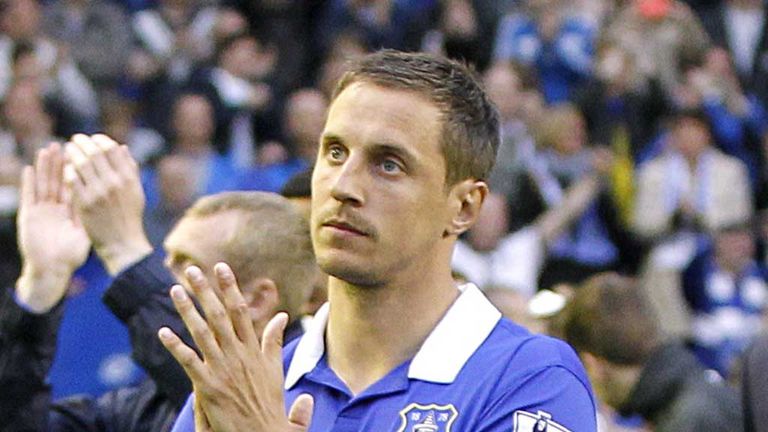 Boss Roberto Martinez has built on the foundations laid by David Moyes and guided the Toffees to their highest-ever Premier League points total, despite missing out on a coveted top-four spot.
Much of this success has been down to the form of loan signings Romelu Lukaku, Gerard Deulofeu and Gareth Barry, and Jagielka would love them to remain at the club, or bring in players of the same quality.
"I've seen enough to suggest we could challenge for top four again next season," Jagielka told the Liverpool Echo.
"But then it's the same again, it's the whole question of how we do in the transfer market; in terms of keeping hold of our players and bringing in a few.
"We had a good summer transfer window last year with the loan signings and it's important the manager is just as active before the start of the season to keep the buzz going.
"I think with the squad we've got, we wouldn't accept performing well in one competition and being disastrous in the other one. That's the type of lads we are.
"And with the right people coming in over the summer, and a bit more depth to the squad, it's an exciting time for us."
Jagielka believes the club can compete in the transfer market, but he is realistic about the restraints on spending in comparison to other clubs challenging at the top of the table.
"The club is in a pretty healthy state but we know we can't go and spend £50/£60million every transfer window to be as strong, on paper at least, as some of the other teams in the league," Jagielka added.
"We're not a club that has a bottomless pit of money.
"We can't get all the sponsors in and go and spend £100m year in year out.
"We've got a budget, and the fact of the matter is that if we'd tried to buy Rom, it may have been £15 or £20m. We may have been able to afford that."