Premier League: Roberto Martinez thinks Europa League football will improve Everton
Roberto Martinez thinks Everton's participation in next year's Europa League is important for his side's development
Last Updated: 10/05/14 5:01pm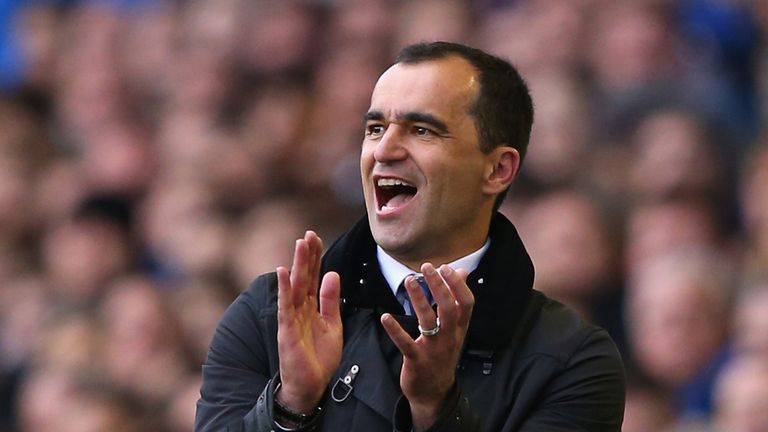 Martinez has impressed in his first year in charge at Goodison Park where Everton remained in contention for a top-four finish for much of the season.
Three defeats in four matches have ended their hopes of Champions League qualification, but Martinez is welcoming the challenge of balancing the demands of domestic football with Everton's participation in the Europa League next season.
"We are happy to have that expectation," he said. "I wouldn't be happy with us as a football club to say 'we had a great season, now let's have a bad season'! That is not what we want at Everton.
"I do think I've seen too many negative comments about the Europa League as a competition - I don't agree with that at all.
"I think it is a perfect introduction for us to test ourselves in Europe and our ability to cope with the demands that brings.
"I think the time we have had together has given us real confidence and a real desire to carry on developing.
"I think getting into Europe is exactly the next step we need as a football club to be tested and push ourselves to the next level.
"And we don't want to drop our levels in the domestic leagues. So it will be a fascinating season.
"The fans expect the team will give everything on the pitch with real style, swagger and quality football and that will always be our focus."
Everton travel to Hull for their final match of the season and look set to finish in fifth place. They have already collected 69 points - their highest ever Premier League points tally - but Martinez will only reflect on the campaign once the season has drawn to a close.
"We still have a game and I don't allow myself to look back yet," he said. "I think it is important we finish strongly on Sunday.
"It has been a terrific season, because to have the amount of points that we have, and the manner in which the team has developed into what we are now, has been exciting to see.
"Young players have had big roles and it has been fascinating. But I think we will have enough time after Sunday to look back and make a proper assessment of the season."