Everton new boy Samuel Eto'o thanks Jose Mourinho ahead of possible debut against Chelsea
Last Updated: 27/08/14 2:50pm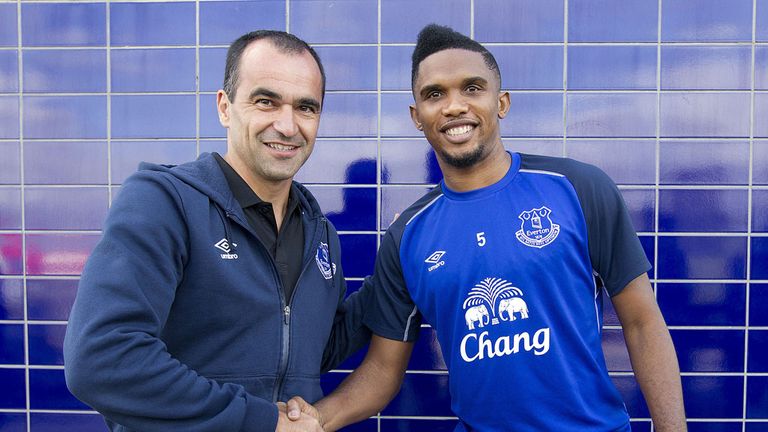 Samuel Eto'o has rubbished talk of a rift with Jose Mourinho as he prepares for the possibility of an Everton debut against his old boss.
Eto'o was part of Mourinho's Champions League-winning side at Inter Milan and came to England a year ago to rejoin the Portuguese at Chelsea.
But the pair's relationship was questioned when Mourinho was caught on camera joking about Eto'o's age, and the 33-year-old left Stamford Bridge in the summer before joining Everton this week.
Chelsea visit Goodison Park on Saturday evening, live on Sky Sports, but speaking at his official unveiling as an Everton player Eto'o said: "I am not concerned about that aspect of it, that it is against my ex-team.
"The important thing is to integrate myself into my team-mates' way of working and get myself ready during the training and preparation, potentially, for that match.
"The only thing I have to say vis-a-vis Jose Mourinho is to thank him. It is down to Jose Mourinho that I had the opportunity to be accepted and integrated into the Premier League, to play some great matches. That is the end of the discussion."
Eto'o's attitude may persuade Roberto Martinez to involve the striker against Chelsea - earlier than he had envisaged.
Martinez said: "We had a conversation. Being realistic, I would have loved him to have 10, 11 sessions before putting him in a competitive environment, but I very quickly learnt I was wasting my time.
"He wants to be helpful to the team straight away, he wants to be involved. It will come down to what sort of condition he has over the next two or three days."
Watch Everton v Chelsea live on Sky Sports 1 on Saturday evening. Coverage begins at 4.45pm.