Davies targets cup redemption
Kevin Davies is determined to lead Bolton to the FA Cup final and exorcise his personal demons.
Last Updated: 15/04/11 10:03am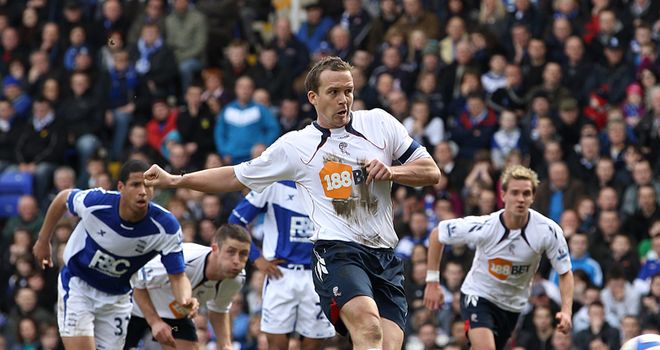 Kevin Davies is determined to lead Bolton to the FA Cup final and exorcise his personal demons.
The England international will lead the Trotters out at Wembley on Sunday for their semi-final showdown with Stoke.
Both sides will head into that game knowing they are within touching distance of major silverware and a place in next season's Europa League.
Davies will be doing all he can to help Bolton over that particular line, with the FA Cup having caused him considerable heartache in the past.
In 1997 he was part of a Chesterfield side that suffered an agonising defeat to Middlesbrough in a last-four replay, while he was overlooked by Southampton for their final encounter with Arsenal in 2003.
Dreaming
Looking to right those wrongs, Davies told the Daily Mirror: "It's not quite worked out for me in the FA Cup.
"Other than my experiences with Chesterfield and Southampton, I haven't got close.
"I've such amazing memories of that semi-final against Middlesbrough, but they're more than tinged with disappointment. At 2-0, they're down to 10 men, you start dreaming, don't you?
"You start thinking about your Wembley cup final suit and song and I know I did.
"We didn't do anything particularly wrong. It's one of those that you look back on and think what could have been.
Opportunity
"It was a big disappointment, but I'm still grateful to have had that opportunity with Chesterfield.
"I try and take the positives from it and I got my move to Southampton at the end of that season, but there's still some hurt there.
"With Southampton, we got to the final and I fancied my chances of getting a place in the squad.
"But an hour-and-a-half before kick-off the manager told me I hadn't made the bench.
"Although I got to the final with Southampton, I never felt part of it. Gordon Strachan gave me a loser's medal on the way back on the coach, but it meant nothing to me. I don't even know where it is now."