Coyle rejects Gunners tension
Owen Coyle has dismissed any suggestion of tension between himself and Arsene Wenger as the two meet this weekend.
By Matthew Skinns
Last Updated: 22/09/11 3:47pm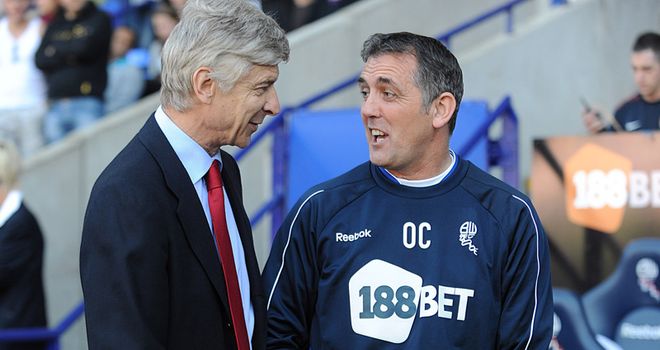 Owen Coyle has defended Arsene Wenger's managerial position by quashing any talk of bad blood as the two prepare to meet at the Emirates on Saturday.
The pair fell out after the Scot was insulted by Arsenal's low valuation of defender Gary Cahill during this summer's transfer window, as the Gunners failed in their bid to obtain the England player.
The Bolton boss insists the issue is in the past: "I am a huge admirer of Arsene Wenger.
"I have come up against him many times and there will be no tension."
Coyle has backed the under-fire Wenger following Arsenal's worst start to a Premier League season ever, having collected just four points so far.
"It is absolutely ridiculous," he continued.
"Arsene Wenger is one of the best managers in world football, and always will be.
"But we have to accept football is a game of opinions and criticism comes along the way.
"I feel he is the perfect fit for Arsenal though, given their history and tradition and the way they have evolved over the years.
"Yes, they would like a trophy, but look at the players he has brought to the club.
"Maybe if he had the same resources as other managers of the biggest clubs, you would see an Arsenal side with different personnel."
The Trotters' Stuart Holden is being monitored following his recent recovery from a ruptured cruciate ligament and may feature in this weekend's game.