Knight is sure goals will come
Bolton's Zat Knight has backed the club's strikers to fire the team off the bottom of the Premier League, starting at Everton on Wednesday.
Last Updated: 03/01/12 5:14pm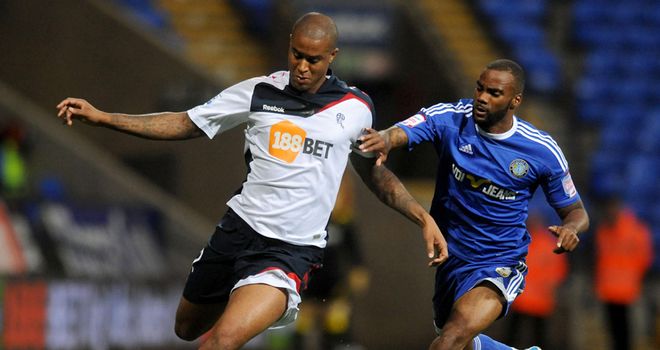 Bolton's Zat Knight has backed the club's strikers to fire the team off the bottom of the Premier League at Everton on Wednesday.
Owen Coyle's men have scored just five goals in their last eight outings but Knight is confident it will not be long before the likes of David Ngog, Kevin Davies and Ivan Klasnic start to hit the back of the net.
"I see the strikers every day in training," Knight told the club's official website. "They will get us goals because they are quality players. Aside from them it's also up to other players on the pitch to chip in too.
"David [Ngog] has come in and has all the attributes to be a top class striker for us. He's quick, strong and has great technique. Hopefully once he gets on then the goals will start flowing for him because he has looked sharp on the training ground."
Those goals will need to start flowing sooner rather than later, however, with Bolton having amassed just 13 points at the halfway stage of the season.
"There's no doubt about it, it's a massive game," added Knight. "We're in a dogfight now. Results may have gone for us recently but we can't keep looking at everybody else. We need to start getting the results.
"A lot of people have been quick to write us off, but I believe that if we play to the best of our ability we are more than capable of getting out of where we are. In the first half of the season we haven't been playing well at all and it shows because we're at the bottom of the league."
And Knight knows that if the improvement is to start on Wednesday night at Goodison Park, he may have to snuff out the attacking threat of former team-mate Louis Saha.
"I know Louis very well," Knight explained. "We obviously played together at Fulham. He's another dangerous player they have and hopefully I can keep him quiet.
"He was great for us at Fulham. It was at a time when we were establishing ourselves in the Premier League and for him to come in and score so many goals was phenomenal.
"Since then he's had one or two injuries and things maybe haven't gone as he would have hoped, but there's no doubting that on his day he's the complete striker.
"Everton also have a number of other dangerous players so we know we'll have to be at our best. We need to go back to basics and make it a real dogfight of a game.
"We need to be hard to beat because this season that hasn't been the case. When a goal goes in our heads seem to drop. When we conceded goals last season it galvanised us."