Messages pour in for Muamba
Liverpool boss Kenny Dalglish headed the list of footballing names to send their support to stricken Bolton midfielder Fabrice Muamba.
Last Updated: 20/03/12 4:56pm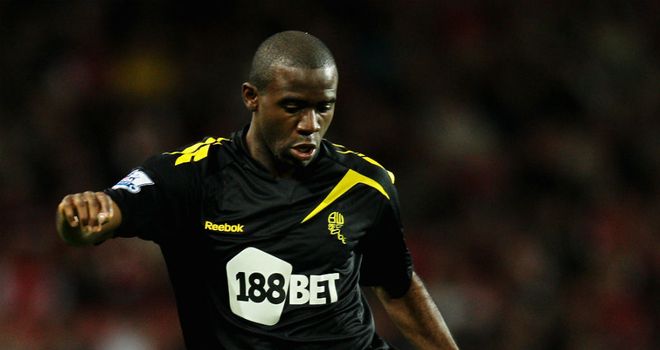 Liverpool manager Kenny Dalglish headed the list of footballing names to send their support to stricken Bolton midfielder Fabrice Muamba.
Muamba will spend at least another 24 hours in intensive care after medical staff took two hours to get the 23-year-old's heart beating on its own following his collapse during an FA Cup quarter-final with Tottenham on Saturday.
Former Bolton team-mate Gary Cahill paid a visual tribute after scoring in Chelsea's 5-2 FA Cup win over Leicester at Stamford Bridge, revealing a T-shirt with the message 'Pray 4 Muamba' printed on it.
And, after his side's win over Stoke, Dalglish also offered his own thoughts.
"I am sure everyone feels great sympathy for the boy but we cannot be feeling as bad as what his family must be feeling," said the Scot.
"It must be horrific for them to be either listening or watching the game and see something like that happen and we hope he has a very speedy recovery.
"He has a lot of people on his side. Although there is great rivalry between various clubs and supporters, he has the whole of football on his side.
"We will keep our fingers crossed that everything goes as well as can be expected."
Muamba's former manager Steve Bruce admitted his shock after describing the midfielder as one of the fittest players he had ever managed.
Determination
Bruce, who signed Muamba for Birmingham from Arsenal in 2007, commented: "He had a fierce determination.
"He was as good as I've ever had in being able to get up and down the pitch. His fitness levels and the energy he brought to the team are quite remarkable.
"That's the unbelievable thing. He was a supremely fit young athlete. He's a tremendous lad. His greatest strength is his humbleness.
"It's quite unbelievable what has happened in the last 24 hours."
Manchester United defender Rio Ferdinand said on Twitter: "Thoughts with Fabrice Muamba, keep fighting bro."
Middlesbrough defender Justin Hoyte, who came through the Arsenal youth team with Muamba, posted: "I seriously hope my best friend in football is okay. Stay strong bro please please stay strong. God is with you remember that."
Muamba's Bolton team-mate Stuart Holden wrote: "Praying for you Fab. Hope he's okay. Thoughts with him and his family."
Former Bolton captain Alan Stubbs, who made more than 200 appearances for Wanderers from 1990-96, said: "We're all hoping that we get positive news. We want Fabrice to come through this just as a person, not as a footballer.
"Football becomes nowhere near as important in this situation. Everyone's thoughts are with Fabrice and his family."
Stubbs, whose former Celtic team-mate Phil O'Donnell died from heart failure aged just 35 after collapsing while playing for Motherwell, added: "If we can detect this earlier in kids who are six, seven, eight then great but unfortunately there are going to be things that happen no matter what tests are done.
"I'm sure Fabrice would have had all the tests because footballers now get the best medical attention and facilities. It's just a sad situation."
Thoughts
Muamba's former club Birmingham have expressed their concern at the 23-year-old's plight.
A statement read: "The thoughts of everyone at, and connected to, Birmingham City Football Club are with Fabrice Muamba and his family and friends.
"Everyone at Blues sends their well wishes to Fabrice and everyone close to him and our prayers will continue to be with him as he fights to recover."
Norwich boss Paul Lambert knows exactly what Muamba's friends and family are going through as he too knew O'Donnell.
Speaking after his side's defeat at Newcastle on Sunday, Lambert said: "It was horrific. Hopefully that lad is going to be okay.
"It happened up in Scotland a few years ago to a good friend of my own, so I know what people are going through.
"But hopefully, he is going to pull through. He is only a young boy, fit. When things like that happen, it puts football into perspective."
Magpies manager Alan Pardew also sent his club's best wishes to Muamba.
He said: "You just want to show your respect because the game is a game we love.
"Fabrice is playing it and he is at the height of his athletic powers, and to be struck down like that is a cruel blow and we all feel for him.
"As the manager of the football club, I really send all our best wishes from our fans and our players and all my staff, because it has obviously been well-discussed in our dressing room and we are all feeling for him.
"I really hope he makes a speedy recovery."