Coyle eyes Sunday smiles
Owen Coyle remains confident Bolton can be smiling on Sunday night despite a season of 'trauma and turmoil'.
Last Updated: 11/05/12 4:46pm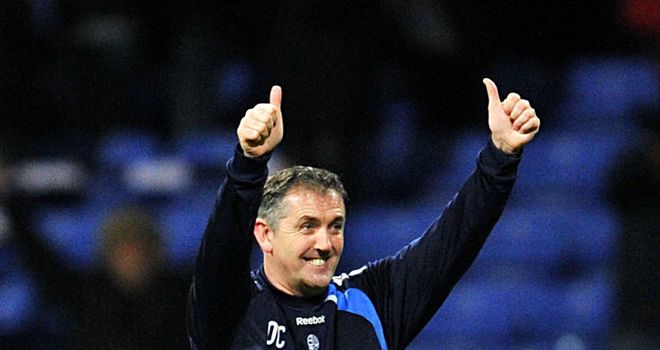 Owen Coyle remains confident Bolton can be smiling on Sunday night despite a season of 'trauma and turmoil'.
It has been an injury-blighted campaign for the relegation-threatened Trotters, with key players like Stuart Holden (knee) and Lee Chung-yong (broken leg) heading a lengthy casualty list and barely able to feature.
Fellow Wanderers midfielder Fabrice Muamba suffered a cardiac arrest on the pitch in an FA Cup game at Tottenham in March and while he has made a remarkable recovery since then, it is not known whether he will be able to play professional football again.
Then last weekend defender David Wheater became the latest member of the Bolton squad to pick up a serious injury, sustaining cruciate ligament damage in his right knee in the 2-2 home draw with West Brom.
That result means Coyle's men - currently 18th in the table - head into Sunday's final day needing to win at Stoke and also hope 17th-placed QPR lose at Manchester City.
Speaking ahead of the must-win game at the Britannia, Coyle said: "David (Wheater) had been in fine form and his injury probably sums up our season.
"It has been unprecedented - knee injuries putting players out for such a long period of time, leg breaks.
"It has just been incredible, with everything that happened to Fabrice as well. It has been great to see his smile now - how well he is recovering is a big positive that has come out of everything.
"There has been huge trauma and turmoil in terms of injuries and illness, but we have just got on with it and always remained grounded.
"We also know that after everything that has happened, we have an opportunity come Sunday to go and win that game and be smiling on Sunday night."
Looked innocuous
Reflecting on Wheater's injury, Coyle said: "It looked innocuous, it really did at the time. David cleared the ball and I think he has fallen back and twisted his knee.
"It certainly looks as if possibly it will be nine months [before he is back], although it might be sooner than that. We wish him a speedy recovery and he will come back and have a fantastic career.
"The events that have taken place involving this football club this year have been beyond belief - you couldn't have made this stuff up. But it's happened, we've had to deal with it and that is what we have done.
"What we have to do now is get ourselves ready for a must-win game on Sunday - it is as simple as that."
Asked if he thought his team would stay up, Coyle said: "I truly believe we will."
For all that went wrong in the West Brom game, where Bolton surrendered a two-goal lead in the final 15 minutes, there was a timely boost for Wanderers with the surprise return to action of Lee.
The South Korea international, who suffered his leg break last summer, came on as a substitute to make his first senior appearance of the season.
Coyle has confirmed Lee will be in the squad for the Stoke match, but has played down the 23-year-old's chances of starting.
"He has trained again this week," Coyle said.
"It was a big ask last week for him to come in. He will certainly be in the squad, but whether or not he is able to start - I think it might be too early, but he will certainly play a part at some point."