Davies expects Bolton stay
Kevin Davies has revealed he is 'pretty sure' he will still be at Bolton next season to try and help the club bounce back to the Premier League.
Last Updated: 14/05/12 5:21pm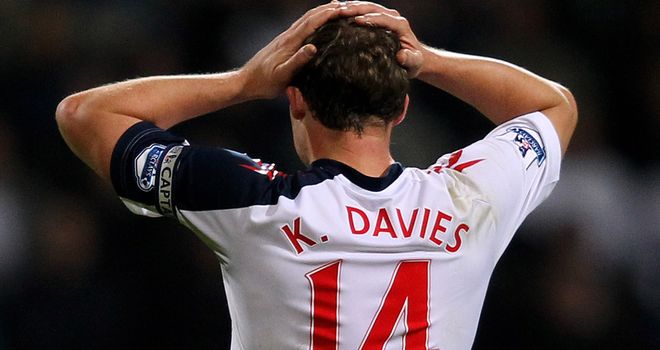 Kevin Davies has revealed he is 'pretty sure' he will still be at Bolton next season to try and help the club bounce back to the Premier League at the first time of asking.
Davies' contract is set to expire and, having been a transfer target for Sunderland in January, he could have the opportunity to join another top-flight club.
However, he does not expect to go anywhere and is ready to commit to the Trotters for another year and assist their push for promotion from the Championship.
"We find ourselves in the Championship and that's a new challenge for the club," said the 35-year-old striker.
"Obviously the club have got a number of decisions to make on a number of players but we'll rebuild and get a good squad together, and hopefully that will be a good enough squad to get us back up.
"It's in the hands of the manager, the chairman and the owner. I thought this day wouldn't come so it's over to them now. Certain targets may change now. There's no doubt the Championship is a difficult league to get out of.
No great escape
"The club will back those announcements and decisions, some players may have made their decisions already.
"I don't want to talk about it too much really but I'm pretty sure I'll be here next year."
Davies, who joined the club from Southampton in 2003, also believes it will take him time to move on from the way Bolton's relegation played out on an emotional final day of the season.
"It could have been so different," he said.
"We could be talking about the great escape. It's going to take a while to get over.
"I just feel like I've let everyone down at the moment, my family and the fans and everyone."
Bad dream
Davies scored direct from a cross to put Bolton 2-1 up against Stoke on Sunday in a match they had to win to have any chance of staying up.
As it happened a win would have been good enough as Queens Park Rangers suffered a dramatic late defeat at Manchester City, but Bolton could not hold onto their lead and ended up drawing with the Potters.
Davies added: "It's like a bad dream at the moment.
"We had to win the game and we put ourselves in a position to do that.
"We were looking comfortable, as we have done in recent games, but we just haven't done enough as a team, from the front to the back, to win the game. We came here with a chance and we've let that chance go.
"It's been a hard season, for me personally. Being out of the side for three or four months was hard to take at first but I fought to get back in the side.
"I was hopeful that the goal, the cross or whatever you want to call it, would have been enough, but we've not done enough.
"After 38 games we find ourselves in the bottom three so we have to take responsibility for that. It's difficult to take, you just want to go and bury your head somewhere."