Adam Bogdan believes Bolton can still win promotion to Premier League
Adam Bogdan says he has always had the belief that Bolton can achieve promotion this season.
By Juha Pal
Last Updated: 17/04/13 2:43pm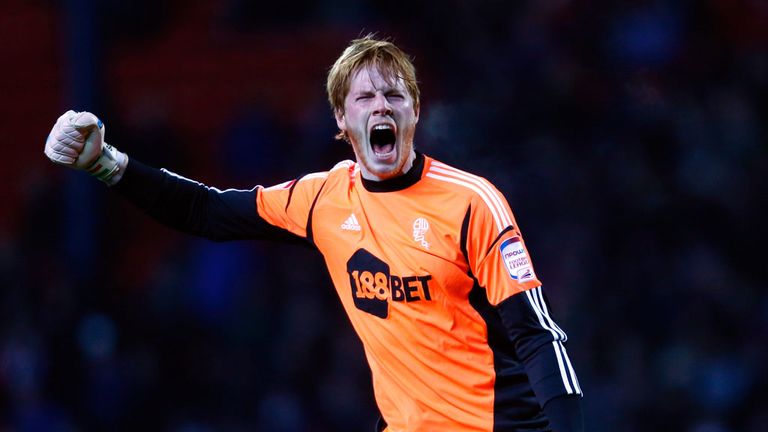 The Trotters are currently seventh in the Championship and sit just one point short of the top six following a surge in form since the turn of the year.
Wanderers were beaten 3-2 away by fellow play-off hopefuls Leicester on Tuesday night, but Bogdan says he still has faith.
"Me, my team-mates, the coaches and the most fanatic fans believed in this," he told Nemzeti Sport.
"When we were on the lowest point, after our draw against Nottingham (Forest) and Derby in the middle of February, something happened.
"It was like a twist fits to the right screw-nut. We started to win the games - five in a row.
"We worked extremely hard on a lot in training. Dougie Freedman worked a lot on analysing the opponents and prepared us precisely for the games. Our manager had his concrete views about our football and about how we should behave on the pitch.
"When we were underdogs we knew that in the Championship any team can beat the other and we also knew that we have the chance to win against any team in the league."
Bogdan suffered an injury midway through Bolton's strong run and subsequently found himself out of the side in the weeks following his recovery, something which he says made him stronger.
"What hurt me was that I wasn't involved in our series of victories. I was of course frustrated not to be in goal but I didn't blame anyone," said the Hungarian.
"I did my best to win back my place and my conscience was clear. I couldn't say a bad word to anyone because Andrew Lonergan played very well. But after the week I spent away with the national team, I could get back into the team.
"The position of goalkeeper is very fragile. If you have a good goalkeeper team-mate then you can easily get out of the team. Of course I did my best in training but the last weeks warned me that I should never slow down and I shouldn't think that I have a guaranteed place in the team.
"I've been playing continuously for a year and I feel that I improved a lot mentally. I can learn from my faults and I know what I have to do in certain situations."