Hot to Trott
Bolton's Marvin Sordell discusses the foundation carrying his name, play-offs and U21 title quests.
Last Updated: 27/05/13 11:09am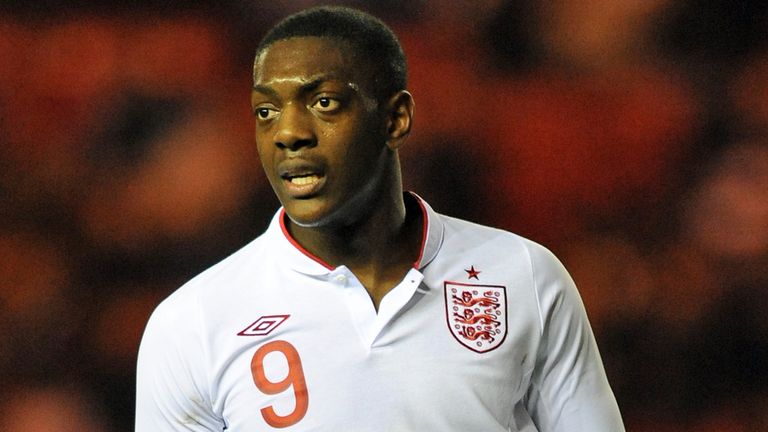 The 2012/13 campaign has entered the final straight, with promotion pushes and relegation battles now in full swing.
Here at Sky Sports, we continue to take you to the very heart of the Football League, with our Spotlight features intended to give you a greater insight into the clubs and players that keep us on the edge of our seats.
We are hoping to bring you the views and thoughts of a representative from each of the 72 teams over the course of the season, with those involved asked to give their take on the division they compete in, the club that pays their wages and those we should all be keeping an eye on.
Next in our hot seat is Bolton's Marvin Sordell, with the Trotters forward taking time out to discuss the foundation carrying his name, play-off pushes and U21 title quests with Chris Burton.
First up, tell me about the Marvin Sordell Foundation and what it's all about?
I started the foundation up in November/December time on the back of reading Sophie Hayes' book 'Trafficked'. This year we have focused on the Sophie Hayes Foundation and Sport for Freedom, which both work in eradicating human trafficking. Our aim, short-term, is to raise awareness and to raise funding for the charities. Long-term, we want to see modern day slavery, as it's called, be abolished.
Click here to visit the Marvin Sordell Foundation website and offer your support.
It's not just about the two charities you are working with at the moment is it, the intention is to work with as many as possible over the years?
Yeah, definitely. I am in a very fortunate position where I am able to use my time and the position I am in to help others. I would like to help other people as much as I can. Starting with the issue of human trafficking and the two charities, and of course we will work alongside them to help them get to their end goal, but, along the way, I would like to help other charities and help them as well.
It's important isn't it for celebrities - not just sporting ones - to put their profile to good use?
Definitely. We are in a very fortunate position where we have an influence on society. You can see in many cases that has been used negatively, but I hope to use it as positively as I can. I think we are starting to go somewhere.
You've had the official launch, is it all about promotion now and getting the word out there?
Yeah. I think human trafficking is something which slips under the radar a little bit because it's quite a tender subject. I think raising awareness is just the beginning. If we can get people talking and get people understanding the scale of it, if we can spread the word, I think more people will understand how big it is and how many people it affects.
While you're busy off the field, on it you've helped Bolton to find form at just the right time and fire yourselves into the promotion race. You're right in the mix now aren't you?
We have got two games left, and hopefully three more. We just want to go into those games and get maximum points, because it's in our hands now. We are in sixth place, we have got the champions on Saturday and then Blackpool the following week - it's in our hands to get a play-off place. I think we are all confident that we can achieve something big together here.
The old cliché 'It's not about how you start, it's about how you finish' certainly applies to Bolton this season doesn't it?
Of course. The Championship is a funny league. Results and the table at the start of the season almost don't matter come this time of the year. We find ourselves in a very good position now. We've picked ourselves up since the middle of the season to give ourselves a chance. We are coming into form at the right time and hopefully we can carry that right through to the play-off final.
You had the change of manager mid-season and that can sometimes disrupt things further can't it, but you have really kicked on?
It can do, but everyone has bought into what the manager is doing. It's been a great success for us because we have gone from the lower end of the table into sixth place now, and it's in our hands if we make the play-offs or not. We are in a very good position now where we can count on ourselves and not others.
For you, the last 12 months have brought relegation, the Olympics, U21 duty with England, a promotion push and an invitation to a Royal Garden Party. It's been some year hasn't it?
It's been some year, that's for sure. There have been a lot of moments that are going to stay with me forever. Hopefully I can add another one of those in the summer.
I take it you are determined to be involved with the Euros this summer?
Of course. I have been involved with the U21s this whole campaign and playing for your country is a great feeling. Being able to represent your country at the European Championships would be unbelievable. I'd love to do that. As the gaffer, Stuart Pearce, has said from day one when we first met up, we aim to win the tournament and we want to go there and win it.
It's such a competitive tournament, though, isn't it - maybe even more so than the senior equivalent?
It's probably one of the hardest tournaments to qualify for. We have got very tough competition to face, but we are confident in ourselves and we can only worry about how well we perform and not other people.
So it's shaping up to a busy time for you on and off the field, but lots to look forward to?
I'm really looking forward to it all. It's exciting times.