Championship: Bolton boss Dougie Freedman bemoaned his side in their 1-1 draw with Ipswich
Bolton manager Dougie Freedman was left disappointed with his side's resilience after they drew 1-1 with Ipswich.
Last Updated: 26/10/13 7:11pm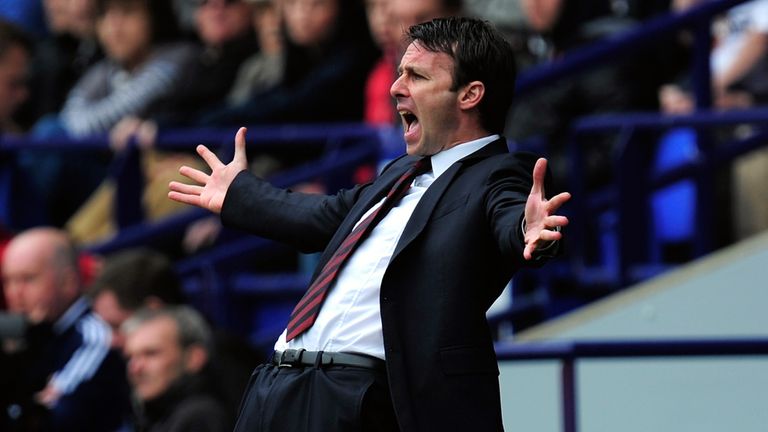 Medo Kamara's free-kick on 65 minutes put Wanderers ahead before McGoldrick's seventh goal of the season meant the home side had to settle for their fourth successive home draw.
Boos echoed around the ground at the end of the game and while Freedman was satisfied with his side's approach, he bemoaned their inability to hold on to the lead.
Freedman said: "Football fans pay good money these days and I've asked the fans to get behind the team and they have done throughout the game.
"I think that we've got to live with the pressure. I felt that it was a very hard game and we were very dogged today.
"We showed a lot of organisation and commitment in the game and got ourselves a goal up.
"But we let ourselves down conceding after we went ahead and that was our downfall again today.
"I was disappointed with that after we looked quite strong and determined to win the game.
"But when we went one up we lacked that belief to get the second goal which is something that's been a problem this season."
Freedman was happy with his goalscorer's contribution, saying: "I thought that Medo in particular did really well. We were playing an Ipswich team who are really dominant and we matched that.
"Medo's passing range was very good today and he isn't renowned for his free-kicks, but after that one he told me that he needs to be taking more."
Town manager Mick McCarthy was pleased with the result even though he was not happy with the way his team played.
McCarthy said: "I'm delighted with a point because that is probably our worst performance away from home this season.
"The game was not particularly good. I described it as awful, dour and dire in different interviews and that's probably what it was.
"But coming back from 1-0 down and getting a point away from home is great and I'm delighted with that.
"It was a great strike from David McGoldrick. I said to him at half-time that it wasn't his day today because he didn't play particularly well.
"A lot of our players were below par considering what they've been like. I told him to keep going and to stick with it and you'll get a chance and you might score as the winner.
"He ended up scoring the equaliser, which is just as important so I'm delighted for him.
"I thought that our defence was great again today as well against tough opponents who were prepared to run in behind.
"Their strikers were a handful so I'm happy with our back four and how they played as well."