Championship: Dougie Freedman was never concerned about relegation
Dougie Freedman revealed he never feared relegation from the Championship after Bolton beat local rivals Blackpool 1-0.
Last Updated: 07/04/14 12:20pm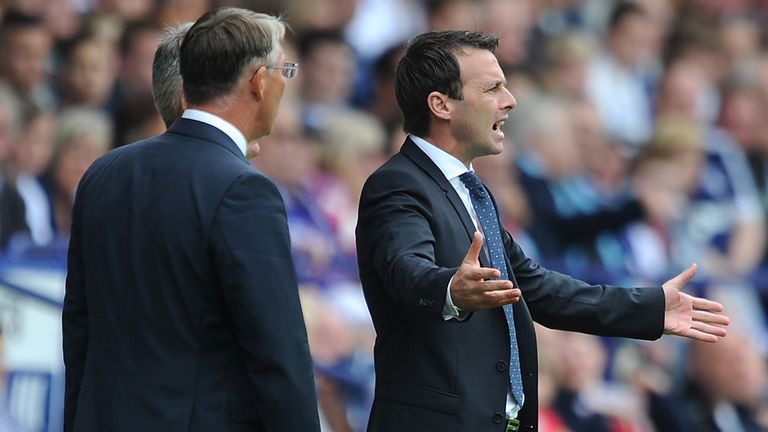 David Wheater scored the only game of the game with a towering header past Tangerines stopper Matt Gilks.
The result puts Wanderers 12 points clear of third-bottom Yeovil but Freedman believed his side were already safe.
He explained: ""I never felt we were in trouble and I also felt that had enough to win games of football.
"We just need to play consistently at a level where we win games. In the last 11 games we've played very well but we just need to consistently pick up results.
"I've said to the lads that they've got to keep on playing. There are lads in there who are playing for contracts, there are players who want to come to the club on loan and there are younger players who want to come through as well. There's a lot to play for within the club."
Freedman was also happy with the way his side performed.
He added: "I'm very happy with that one I felt that the way we started the game very well and got a goal.
"Blackpool then came into the game but Adam didn't have too many saves to make.
"We adapted our shape and made it a bit more difficult for them and in the end we had a couple of chances and we deserved that 1-0 win because of the way we approached the game in the final 25 minutes."
Meanwhile, Blackpool player/manager Barry Ferguson does not feel his side are safe, despite nine points clear of the relegation zone.
Ferguson said: "Do I feel safe with us being nine points above the drop zone? No I do not feel that we are comfortable at all.
"It should have been 12 points above the drop zone today because I thought we were the better team but it's not and we'll just move on to Saturday and we'll be ready for QPR. But I still feel we are no way near safety yet."
Speaking about the performance, Ferguson believed his side deserved to win the game
Ferguson added: "I thought that we dominated the game to be fair. We just could not put the ball in the back of the net and that is what obviously wins you games.
"We could have obviously defended better from their goal but apart from that I thought that we were the better team."
Ferguson also revealed that he hopes to add to his squad ahead of Thursday's emergency loan window deadline.
He explained: "I hope to do something tomorrow. The window obviously closes on Thursday so hopefully we'll get one in before then."