Boy from Brazil
Bolton's Andre Moritz discusses his desire to put down roots and heading home for the World Cup.
Last Updated: 27/03/14 3:33pm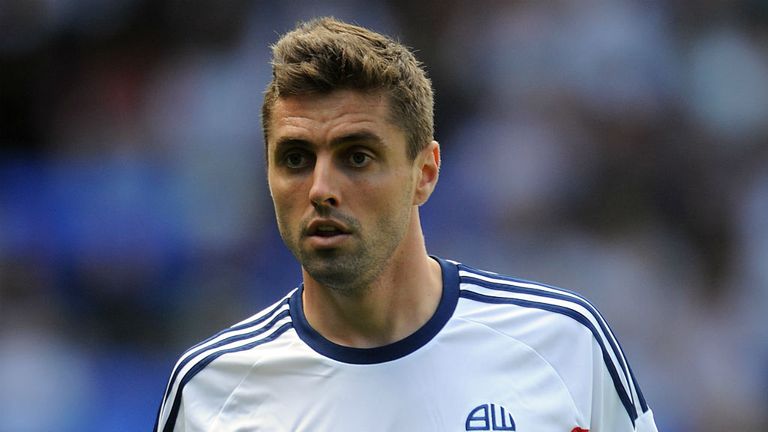 The 2013/14 campaign is now entering the final straight, with divisions beginning to take shape.
Here at Sky Sports, we will look to take you to the very heart of the Sky Bet Football League over the coming months, with our Spotlight features intended to give you a greater insight into the clubs and players that keep us on the edge of our seats.
We hope to bring you the views and thoughts of a representative from each of the 72 teams over the course of the season, with those involved asked to give their take on the division they compete in, the club that pays their wages and those we should all be keeping an eye on.
Bolton's Andre Moritz is next into the hot-seat, with the Trotters' Brazilian playmaker taking time out to discuss his desire to put down roots and heading home for the World Cup with Chris Burton.
With the summer fast approaching, has there been any word on your future - a new contract or moving on?
To be fair, no. We have been in a difficult spot with the fixtures so I think now that it is almost sure that we will be in the Championship for next season, I think they will start to plan for next season as well.
So you think that Bolton are all but safe now - 12 points clear of the relegation zone, one more win should make absolutely sure shouldn't it?
I think of course it is not mathematically sure that we will play in the Championship next year, but we are in a kind of comfortable zone. We also have a few winnable games, so we are almost certain to be in the Championship for next year.
I take it you are enjoying your time at Bolton at the moment - you're free of the niggling injuries and scoring goals?
Absolutely. I do my best every time I go on the pitch, even when I am given five or 10 minutes I try to do my best. Unfortunately I haven't had much game time, but I try to enjoy every single second that I am given. Like you say, I am scoring a few goals as well and have been able to create a few assists and be helpful for the team. I am enjoying my time here, yes.
Do you feel settled in England now and is this where you want to be playing your football?
For sure. I think my football style fits the English way of playing football. I have spent two seasons here and I am happy and settled now. I have made good friends here as well so it is a place I want to be for a long time.
You had one year at Palace and have had one at Bolton, are you looking for somewhere you can stay long-term and really put down roots?
Yes. My next move, I want to be somewhere with maybe a three or four-year contract so I can go there and know that I will be there for a long time. For me, coming to England was a gamble because nobody knew me before I came here. Now it's been two years and I want to find somewhere, maybe here at Bolton or somewhere else, that I can stay for longer - two, three or four years. I will do the same kind of job that I have done for Bolton and at Palace, I just need to settle down at one football club and do my best.
Would you like that club to be in the Championship, do you feel comfortable at that level?
Of course I want to play in the Premier League and I feel I could play there. Unfortunately I haven't had much game time to show that I am capable of that. In England it is all about stats and all about the CV. Unfortunately, I have been doing my best but I haven't had the game time to prove myself. But my main aim is, of course, to play in the Premier League.
How have you found the switch to English football, having spent a few years in Turkey prior to linking up with Palace?
I thought it was going to be more difficult, to be honest, than it actually was. When I came here I thought it would be really different to the Turkish and Brazilian way of playing football. It was different, but it suited my style. I am a number 10 who likes to break lines and here in England it is all about tactics and you feel that if you understand the game and how the opposition play, it is good for people who can change the game. My position here, I got it really quickly the way I was supposed to be playing. I have been doing alright so I just need to improve myself a bit more.
And have you enjoyed working under the managers you've played under - Ian Holloway, a big character, and Dougie Freedman twice?
Yes. I am a professional, it doesn't matter who I am with, I will always try to do my best all the time. There have been two good characters to work with and I have learned a lot. I'm just a professional who does my job and will do what I'm told to do. I will always try hard to get my spot on the team and if I don't, I just need to find somewhere that will give me that chance of playing.
You just want to enjoy your football don't you, that's what being a professional is all about?
I am a professional footballer and I enjoy Saturday afternoons and the game atmosphere. I am not a football player who will be satisfied being in the squad. As a footballer I would like to play every week and every game. I want to have as much game time as I can, but I also have to respect the manager's decisions for the team. As a football player you always want to be involved as much as you can.
At the end of the season, are there any plans to head home and try to catch a bit of the World Cup?
Yes. I will go home just after the last game of the season. I miss my family so much because the last time I was with them was June last year. It's been almost a year. I have got three new nephews on the way so I can see them. It has been a long time since everyone has been together. Of course I will also look to catch a bit of the World Cup.
It could be a great summer to be in Brazil couldn't it - fanatical support and a team that looks ready to do the business?
We are excited. I think it is time for us winning another World Cup. We have a good team and especially a great manager (Luiz Felipe Scolari). He is a champion who always wins everywhere he goes. We are all excited to see what is going to happen at this World Cup. We are very positive that everything is going to go our way and hopefully we will be the champions.
Do you have dreams of playing for Brazil one day?
I would never say never. But I could never go from Bolton right now in the Championship to the national team. It is too big a bridge. I would need a club that puts me in the window of the shop. There are so many quality players that you need to be playing top, top level. Of course I don't think I won't ever be able to play for Brazil, but I need to be playing at a top end level.
Do you also see yourself playing back home further down the line?
It would be nice, but I think only to retire. My family loves following me and love football so it would be nice for the last one or two years of my career to be back home and they could watch almost every game. My nieces and nephews would be big enough to understand the game as well so it would definitely be a nice thing to do before I retire, but we are talking about six, seven, eight years' time. I don't know what's going to happen.