Transfer news: Dougie Freedman looking to freshen up Bolton ranks
Dougie Freedman is looking to 'trade' this summer, with Bolton focused on finding players with the right commitment.
Last Updated: 17/04/14 10:18pm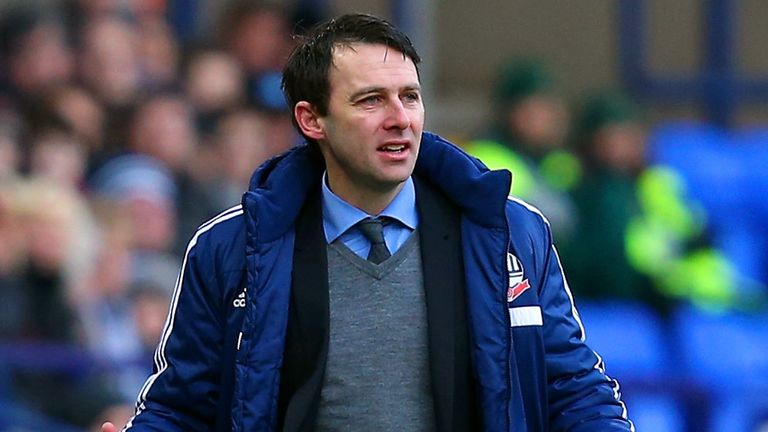 The Trotters feel a freshening up of their senior squad is necessary, but have no intention of parting with key men.
Speculation has already started to link the likes of Mark Davies with a move elsewhere - with Leicester City said to be keen ahead of their return to the Premier League.
Freedman is expecting the upcoming transfer window to be a busy one, and concedes that every player has a price, but he is more concerned with building a side around star performers than generating funds by offloading them.
He said in the Bolton News: "If people come in for any of my players, then the first conversation would be, 'Do you want to stay?'
"If the answer is 'yes' then I'd keep them, no doubt. But everything is for sale. It would be silly to say you'd answer every question with a 'no'.
"I'm fed up, in 20 months of being here, of players who feel this football club owes them something. They think it's their right that 'I should be playing this week'.
"We should be looking forward and I want players who want to be here. If they don't want to be here, then that's my attitude - go."
Freedman is yet to be made aware of the budget he will be working with this summer, but the Scot is confident that productive business will be carried out.
He added: "I have to do some trading. This club hasn't done enough in the past. It hasn't produced enough assets to trade.
"We've relied on loans, then when they go back we start all over again.
"I'm yet to see what the budget is going to be for next season, but I don't think it will be as it has been.
"I would like to think I can keep a hold of one or two, but know that one or two will move on and a few will come in.
"I think it will naturally cut itself up with a few coming to the end of their contract who are on good Premier League money.
"It's definitely opened my eyes that we need to trade. I owe it to the fans that we see some fresher, younger faces because when we've had that, results have improved."