Drenthe promises more to come
Royston Drenthe believes the Everton fans have not seen his full potential as of yet.
Last Updated: 24/10/11 12:44pm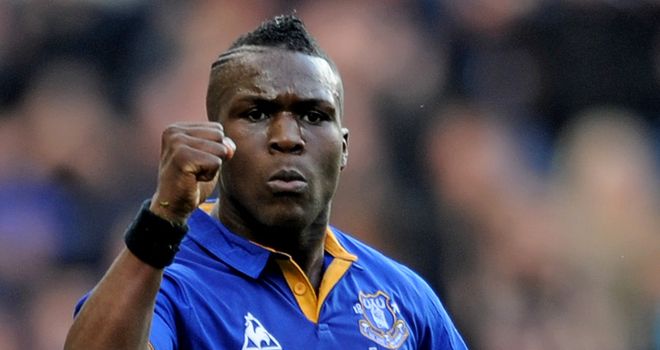 Royston Drenthe believes the Everton fans have not seen his full potential as of yet.
The versatile midfielder made his first Premier League start in Sunday's 3-1 victory over Fulham.
The Dutchman, who is on loan from Real Madrid, did not take long to impress as he scored a stunning 25-yard goal within the first three minutes of the game.
"The fans can expect more," he told the club's official website.
"You can show a lot more when you start than when you come in from the bench. Of course you can be important when you come in, but always it's a bit harder to get with the pace of the game.
"I did a good job, but for me it's always more important that I do a good job for the team. Three points was very important for Everton and when we're not playing at Goodison it's even better to get the win."
Sharp
Drenthe has built up a good relationship with fellow Dutchman John Heitinga and explained the reasons for his goal celebration.
"After my goal I ran to Johnny," explained Drenthe.
"From the beginning since I came to Everton he's been like my dad and told me what I can do, and who to ask for help. So I said to him, if I score I'm coming to you.
"Before I started to play, the manager killed me in training. He made me run a lot and now I feel really fit and great. That's what I wanted, to be sharp. I don't want not to be fit and then come into a game and not be able to handle the pressure. I feel good now.
"I think we've got a really good squad and it's not easy for the manager to make decisions before the game.
"He's the boss, and he makes the decisions. I got my first start, and it was a good feeling."
Good things
Everton boss David Moyes had nothing but praise for the speedy winger, adding: "Drenthe did a lot of good things. He scored a great first goal and had a good game.
"We're trying to get him used to the speed of the Premier League and the way we do things at Everton. We just tried to get him ready and how we want him to play with us.
"He's been a good lad around the place. You can see by his celebration he's very much part of the group and we're pleased to have him."