Free agent
The first free agent to fall under our microscope in his search for a new club is former Reading and Barnsley midfield schemer Brian Howard. Over the next month we'll be speaking to a host of footballers at a crossroads in their careers as they look to get hooked up for next season.
Last Updated: 14/07/12 7:21am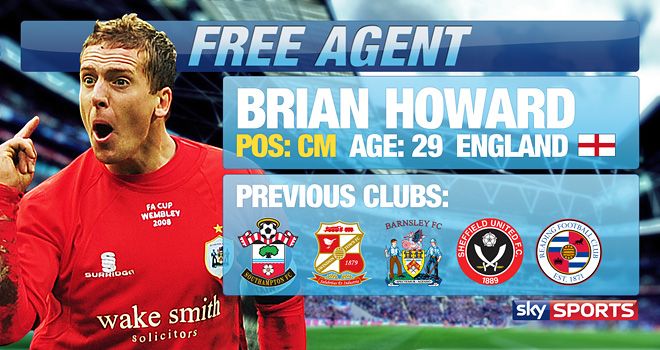 Brian Howard finds himself in a strange position this summer as he is currently without a club for the first time in his career. The classy midfielder was released by Reading earlier this summer upon the expiration of his contract at the Madejski Stadium.
The 29-year-old has a wealth of experience having amassed over 300 first-team appearances in a career that has taken him from Southampton as a kid to Swindon, Barnsley, Sheffield United and Reading and also a loan spell at Millwall.
The goalscoring midfielder has already attracted interest from a number of clubs and he would be an astute signing for any manager looking to add a bit of class and guile to their side. Howard can count on his CV scoring the winning goal in the 90th minute to dump Liverpool out of the FA Cup in 2008, courtesy of a stunning effort in front of the Kop.
What's your situation at the moment?
My contract at Reading finished at the end of the June and I am officially a free agent and looking for a new club. I played a few games for Reading last season and then I had a loan spell at Millwall where I played about ten games, but now I am ready for a new challenge.
How worrying was it to find yourself become a free agent?
It is the first time I became available for free as normally I have been on long-term deals wherever I have been playing, so it is a strange situation for me. This summer looks like it is a sticky time for a lot of footballers and clubs due to the financial situation. That is not just in football though but in general. A lot of players currently find themselves without a club as this has been one of the longest summer breaks we've had. With the Euros and then the Olympics it means a lot of transfers have not been happening like in previous summers.
Is being a free agent part and parcel of the game now?
It is part of the game now and you get used to it. It can be a positive thing as if you look at Robin van Persie, he could become a Bosman by seeing out his contract at Arsenal. He'll leave next summer for nothing and sign a lucrative deal elsewhere. While on the other hand, it can be difficult as you may not be able to find a club and find yourself out of work for an extended period of time. I know there were a lot of players available on free transfers (last summer) who have still not found clubs.
Have you been keeping yourself fit over the summer?
I look after myself in general and I have been keeping in shape over the summer. I have been doing double sessions in the gym and working with a personal trainer. I have also been into some local clubs to do the bleep tests and all the other fitness tests. Things have gone well so far.
Do you want your situation sorted quickly?
Of course I want to fix myself up with a club as soon as I can, but I will not rush into anything. This is a crucial decision at this stage of my career. Everybody would like to get into their new club during pre-season so they can get among their new team-mates and build relationships and impress the manager, but obviously it has to be the right club. I want to be playing on a regular basis wherever I go next season.
Has there been much interest in you as of yet?
There has been interest shown in me from a few clubs and I am assessing all my options at the moment. I am not going to rush into making a decision on where to go as it is a big move, as I want to kick-start my career after a tough season last year. In an ideal world I would get myself fixed up before the big kick-off next month, but I need to make sure it is the right club as I don't want to be sitting there like last season when I was not playing for Reading.
What level would you like to play at? Are you hoping to stay in the Championship?
I want to play at the highest level I possibly can. Obviously I have great Championship experience having played in the league for the last four or five years with Barnsley, Sheffield United and Reading. I think I can comfortably play in the Championship and I would like to be playing at the top end of the division. I was named in the PFA Championship Team of the Season during my time at Barnsley so I think I have proved I can play at this level.
Would you be willing to drop into a league below the Championship?
It depends on what the offer would be and what the club's ambitions were. I would have no problem going to a League One club if I feel they are going in the right direction and share the same ambitions as myself.
Taking your family commitments into account, are you prepared to relocate?
I got married recently so obviously it is not just myself that I have to think about. She is great and understands what goes with being a footballer. It is a short career and she understands that we may have to move about but she is a great supporter of me, so I know she would back me whatever I do.
Are you confident you can do a job for a new club?
I am 29 now and I think I am reaching my prime. I have plenty of years left in me and I am confident in my ability. I have played in a play-off final for Barnsley, an FA Cup semi-final and also played in play-off finals for Sheffield United and Reading so I think my CV speaks for itself.
We would like to hear your thoughts on the best free transfers out there. Who should we be talking to? Who are this summer's bargains? Who should your club be targeting?
Maybe you are a player that would like to be featured, or an agent looking to get a client fixed up for next season. To offer your suggestions fill in the feedback form below or get in contact with either chris.burton@bskyb.com (@SkySportsChrisB) or alex.dunn@bskyb.com (@SkySportsAlDunn)