Federici vows to recover
Reading goalkeeper Adam Federici has vowed not to let his mistake in the draw with Stoke affect him
Last Updated: 19/08/12 2:51pm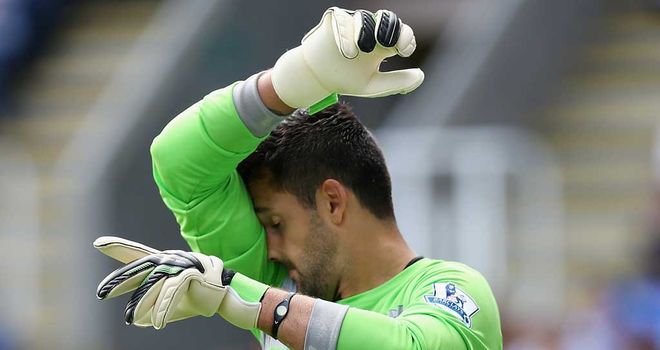 Reading goalkeeper Adam Ferderici has vowed not to let his mistake in the draw with Stoke affect him.
Federici gifted Stoke their goal in the 1-1 draw at the Madejski Stadium when he somehow let Michael Kightly's seemingly harmless shot slip through his arms and into the net.
The blunder was completely out of character for Federici, who kept 20 clean sheets in Reading's Championship-winning campaign last season and the Australian has vowed to bounce back from the clanger.
"I've never made that mistake in training, let alone in games," said Federici. "There was a massive deflection on it. It kind of just stuck to my shirt and spun off my wet top and I just lost it.
"It's tough to take. I've worked extremely hard to get here and to have that first experience in the Prem. I'd say I was a little bit nervous as well, and the boys were, to start with.
"But, early days, there's a long way to go and I'm sure that the next few games will be good ones for myself in particular."
Embarassed
Asked if he was the most relieved man in the stadium after Adam Le Fondre snatched a draw from the penalty spot for Reading, the 27-year-old added: "I wouldn't say relieved because I'm very hard on myself. I'd say I'm a little bit embarrassed.
"I've been dreaming about playing in the Premier League for a long time so I'm taking it pretty hard to be honest."