Current boss Brian McDermott has hailed Alan Pardew's influence at Reading
Reading manager Brian McDermott has credited Alan Pardew for setting the Royals on the path to the Premier League.
Last Updated: 27/09/12 7:15pm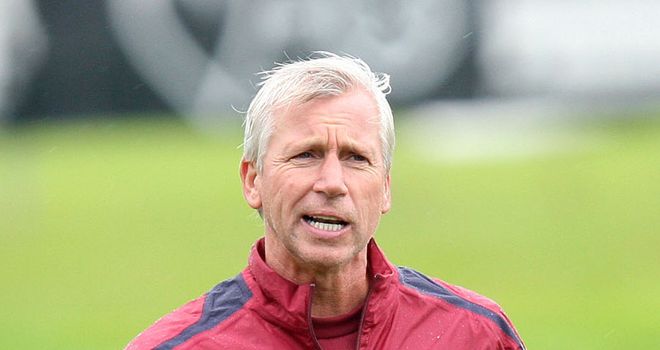 Pardew was in charge at the Madejski Stadium from 1999 to 2003 before leaving for West Ham in acrimonious circumstances.
Although it was Steve Coppell who eventually took Reading into the top flight in 2006, McDermott feels Pardew was crucial in establishing the identity of the club.
"Alan Pardew is a good friend of mine and I believe he set the identity for this club over a period of time," said McDermott.
"The tempo of the team, the passing game and work rate are second to none here and he set that trend. That's been our identity for the past 12 years.
"Alan was the man who set Reading on course for the Premier League.
"I hope he gets a good reception on Saturday, but it will be what it will be. Everyone's moved on from when he left for West Ham."
Scout
It was Pardew who first brought McDermott to the club as chief scout and manager of the Under-17 team in 2000 and the 51-year-old has been at Reading ever since.
"I didn't really know Alan until I met him at a game at Brentford. I was cold, it was wet and I was out of work," he added.
"We had a conversation and Alan must have remembered me because I got a phone call out of the blue a little while later asking if I wanted to come.
"I'd never been chief scout before. I was working incredible hours, but I loved it. Alan was paying me about £2.50 per hour, so he got his money's worth.
"I loved working with him, as I did with Steve Coppell. It was never a hardship.
"Alan was very good for me personally and for Reading as a football club. He's been very successful at a number of clubs since."
Bottom
Reading are still looking for their first Premier League win of the season and are currently bottom of the table after four games.
But McDermott feels Wednesday night's 3-2 Capital One Cup third-round victory over QPR has restored some belief in a team not used to losing matches.
"It was a really good night for us, especially after the last two league games where we felt we hadn't done ourselves justice," he said.
"We stripped the team back to what we're about last night. Everyone could see we had a real identity.
"It's about being close as a group. Last night we attacked and defended as a group. Doing things together is the ethos of this club.
"Everyone feels better about themselves after last night. It's tough because we're not used to losing games here. It's not something we like doing."