Jason Roberts urges Chelsea to come down hard on captain John Terry
Jason Roberts has urged Chelsea to take severe action against John Terry after he did not appeal a ban for racial abuse.
Last Updated: 18/10/12 5:21pm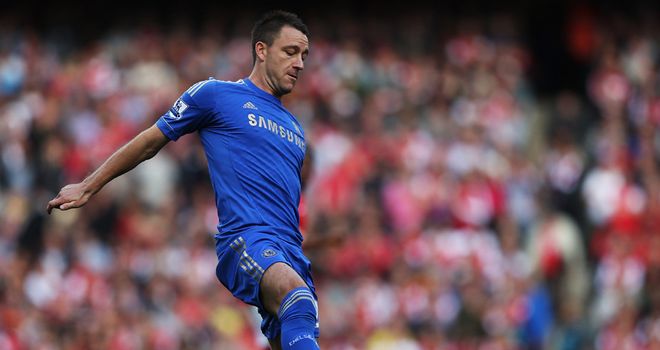 Terry had until 6pm on Thursday to contest the suspension and the £220,000 fine handed out by an independent FA regulatory commission, but he has decided to accept the punishment and issue an apology, in a move supported by his club.
Chelsea have taken their own disciplinary action which will be kept under wraps, but Reading striker Roberts believes Terry should face stronger sanctions and has called on the Blues to come down hard on their captain.
"You know we've sat and we've spoken about the Serbian FA and their view of what happened out there with the England Under-21s and how you have to take responsibility," he told Sky Sports News HD.
"I think for a club like Chelsea, if you find yourself in the middle of this, you have to be seen to be doing the correct thing and the correct thing is to be taking action against someone who has done something like that in the game.
"I think to use that language in any context, regardless of the way it's been painted, the context in what it's used is still debatable in my eyes, and the fact it's come out in that way you have to be strong in their actions.
"If you use that sort of language in the workplace, what sanction would you expect to be given? I don't know. You say about fans saying it on the sidelines and what would happen to them?
"The fact someone is such a huge part of a club, you have to make a decision on that and as I said, it's come a year too late, and we'll wait and see what the authorities further have to do about it.
"Certainly a four-game ban is nowhere near what people would expect for something like this."
When asked about a possible punishment, he added: "I think they should be considering everything. Like you said, if someone uses those words in the workplace they would be sanctioned accordingly.
"I guess it's up to Chelsea to do what's right."
In a statement issued by his representatives Elite Management, Terry revealed he was unhappy with the FA judgment but has decided to serve his suspension.
"After careful consideration, I have decided not to appeal against the FA judgment," he said.
"I want to take this opportunity to apologise to everyone for the language I used in the game against Queens Park Rangers last October.
"Although I'm disappointed with the FA judgement, I accept that the language I used, regardless of the context, is not acceptable on the football field or indeed in any walk of life.
"As I stated in the criminal case, with the benefit of hindsight my language was clearly not an appropriate reaction to the situation for someone in my position.
"My response was below the level expected by Chelsea Football Club, and by me, and it will not happen again.
"Looking forward, I will continue to do my part in assisting the club to remove all types of discriminatory behaviour from football.
"I am extremely grateful for the consistent support of Chelsea FC, the fans and my family."