Reading striker Jason Roberts to snub Kick It Out over John Terry case
Jason Roberts is set to boycott this week's Kick It Out initiative in protest at a perceived lack of action on racism.
Last Updated: 20/10/12 2:09pm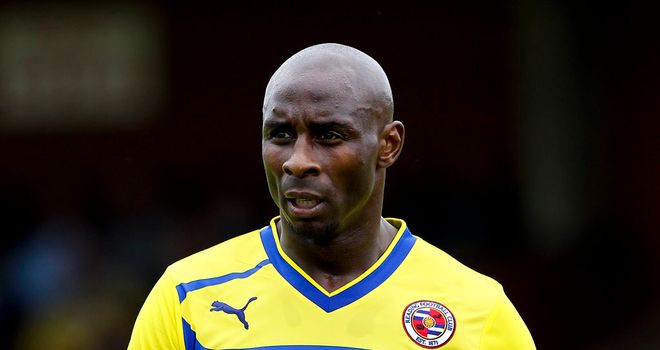 The Reading striker will refuse to wear the campaign's T-shirt after accusing the authorities of lacking "the stomach" to take a strong stand on the issue.
Roberts believes John Terry's four-game ban for racially abusing Anton Ferdinand is "nowhere near what people expect" and says it is down to players to take a lead.
He told Sky Sports News: "It seems like the authorities don't have the stomach to take this on, and if the players don't take it on then nobody will."
A number of players, among them Aston Villa's and Reading's, are thought to be considering whether to join Roberts in boycotting the anti-racism campaign's annual week of action.
And in the meantime Roberts has called on Chelsea to come down hard on their captain after a club statement confirmed Terry is facing internal disciplinary action.
He said: "You know we've sat and we've spoken about the Serbian FA and their view of what happened out there with the England Under-21s and how you have to take responsibility.
"I think for a club like Chelsea, if you find yourself in the middle of this, you have to be seen to be doing the correct thing and the correct thing is to be taking action against someone who has done something like that in the game.
"If you used that sort of language in the workplace, what sanction would you expect to be given? I don't know. You say about fans saying it on the sidelines and what would happen to them?
"Certainly a four-game ban is nowhere near what people would expect for something like this. I guess it's up to Chelsea to do what's right."
When asked about a possible punishment, he added: "I think they should be considering everything. Like you said, if someone uses those words in the workplace they would be sanctioned accordingly.
"I think to use that language in any context, regardless of the way it's been painted, the context in what it's used is still debatable in my eyes, and the fact it's come out in that way you have to be strong in their actions.
"The fact someone is such a huge part of a club, you have to make a decision on that and as I said, it's come a year too late, and we'll wait and see what the authorities further have to do about it."