Reading's Jobi McAnuff says there should be no witch hunt against Liverpool striker Luis Suarez
Jobi McAnuff has admitted Reading will have to be careful against Luis Suarez when they face Liverpool on Saturday.
Last Updated: 19/10/12 8:36pm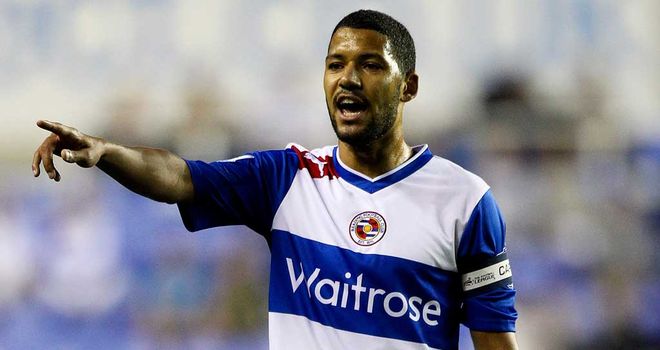 Suarez has developed an unwanted reputation and was branded an 'embarrassment' by Stoke boss Tony Pulis earlier this month for diving.
While the Uruguay striker has received strong support from manager Brendan Rodgers, he has faced heavy criticism from outside Anfield.
McAnuff knows Suarez must be watched closely in Saturday's match at Anfield, but insists there are grey areas when a player goes down.
"With any player, especially in the box, you have to be careful, probably more so with him," the club captain said.
"In the last game (Liverpool v Stoke) he was literally nowhere near him.
"There's been some instances with Suarez that have been penalties which he hasn't got and of course on the other hand there's the instances that were dives.
"But sometimes it's not a penalty nor a dive - there is an in between.
"You can be running at such pace that it doesn't take a lot to knock you off your feet or unbalance you."
Contact
McAnuff added: "The referee might not deem it enough to be a foul, which is fine, but there's a massive argument now that if it's not a penalty, then it's a dive, when there is in fact an in-between.
"We have to be a little bit careful of creating a witch hunt because we have to be fair and judge every decision individually.
"I've had a couple this year in that category 'were they, weren't they'. Some people say I went down too easily.
"I don't think I did, especially in one of the cases and the referee didn't think it was enough contact to give a foul."
No romance
Reading will face Brian McDermott's predecessor as manager when they attempt to secure their first Premier League win of the season at Anfield.
Brendan Rodgers, who was replaced by McDermott in 2009, has endured a difficult start at Liverpool with the club sat in 14th place after securing a solitary victory.
McAnuff was signed by Rodgers in 2009 and insists the Royals have moved on since his departure.
"I've played against a lot of former managers because I've been around a bit. You can't get sidetracked with any other issue," he said.
"I haven't looked at how Brendan is doing at other clubs because you can't be too romantic and overly friendly with people.
"You work with someone when you're there. You go or they go and you get on with it, it's as simple as that.
"Whatever the circumstances of Brendan leaving, since Brian has come in it's been an upward curve.
"I played for Brendan at Watford and then he brought me here, so from that point of view I'm pleased he did that because I've had a great time here, probably the best of my career.
"But I've got a great relationship with Brian and that's the main issue."