Reading boss Brian McDermott claims every manager is under pressure
Reading boss Brian McDermott appreciates he must pick up points, but says every manager is under pressure to deliver.
Last Updated: 02/11/12 7:23pm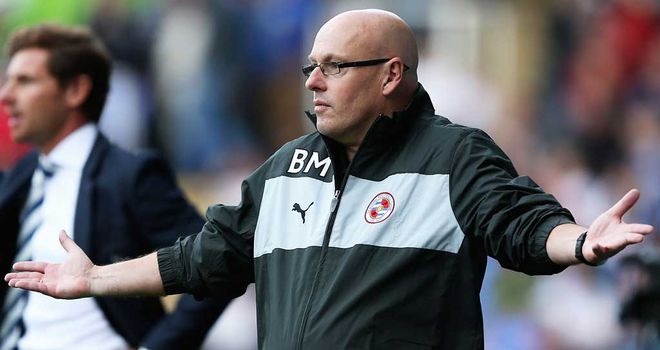 The Royals have yet to secure their first Premier League win since returning to the top-flight, with eight games bringing four draws and four defeats.
McDermott has been around long enough to know that results must improve if he is to keep his job, but he claims to be revelling in the responsibility of trying to turn the corner.
"Everyone's under pressure. That's the nature of the business," he said.
"You saw me at 11pm on Tuesday night (after a remarkable 7-5 defeat to Arsenal in the Capital One Cup), I was under pressure, believe me. We all are.
"You know Arsene Wenger was under pressure at 4-0 down. And that's what management is about and it's how you deal with that.
"I am absolutely loving every minute of it. Nothing worth doing is ever easy."
Supportive
McDermott claims he has the full backing of Reading owner Anton Zingarevich, with promotion having been delivered ahead of schedule.
"The owner was in a team meeting with us last week so he knows what we're about. He has known us since January now," he added.
"Obviously we want more points on the board, but he knows that everybody is giving everything they've got, so he's been really supportive.
"In January he said to me, 'look we don't need to go up now, maybe have a real go at it the following season'.
"I said to him, 'I'm 50 years of age now, I need to go up'. So I was the one who wasn't patient, but he was patient.
"He saw this season maybe a year in advance but now we're here."