Brian McDermott devastated after stoppage-time winner sees Reading remain bottom
Brian McDermott said he was "gutted" after Manchester City scored a late goal to secure a 1-0 victory at the Etihad.
Last Updated: 23/12/12 8:08am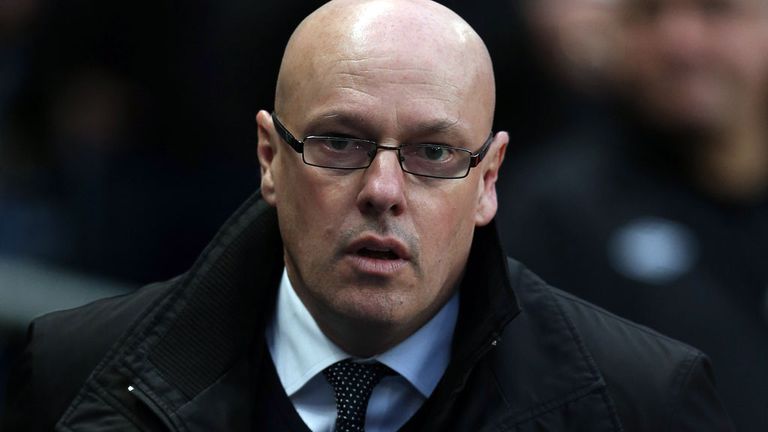 The game looked set for a surprise goalless draw on Saturday after the visiting Royals put in a diligent defensive display to hold off the hosts, but a stoppage-time winner from Gareth Barry saw Roberto Mancini's men claim victory.
The loss marked a seventh consecutive defeat for McDermott's side, and he believes they deserved more.
He said: "We're absolutely gutted. I'm gutted for the players and the fans.
"The boys were concentrated for the whole game, it's no fault of our players today not to get results.
"We deserved at least a draw at this place. This is one of the most difficult places to come in the Premier League, we all know that.
"I'm gutted for the players and I'm gutted for the fans who came such a long way and got wet out there today. They deserved at least a point."
McDermott, evidently disappointed with the end result, said his team can take a lot of positives forward.
He added: "We can take the positives from the performance.
"Obviously we're in the results business, we haven't got the results we deserved this season.
"There's no doubt about that. I'm sure at some point we have to get a break."
Joke
McDermott felt Barry illegally jumped on the back of one of his players as he leapt to reach David Silva's cross but referee Mike Dean saw nothing untoward.
Dean had been similarly unmoved when Jay Tabb went down in the area after a collision with City youngster Karim Rekik during a second half Reading counter-attack.
When asked about the winning goal, McDermott said: "Absolute joke. We have had that a few times this season and even the Tabb penalty - it was a penalty.
"We have had three or four of those, we have had a handball goal against us and an offside goal against us - all of which have cost us points.
"To get that wrong - I have just said to him (Dean) he will be gutted he's missed that.
"He hung in the air, but you can hang in the air all day long if you are on someone's back.
"It's an absolute cert foul, it cannot be anything else."