Danny Guthrie expected backlash from Reading's fans after fall out with Brian McDermott
Danny Guthrie fully expected a backlash from Reading's fans after his recent fall out with manager Brian McDermott
Last Updated: 29/12/12 2:07pm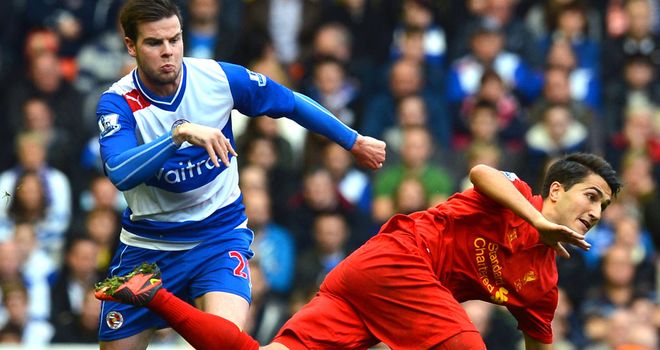 Guthrie had to apologise to McDemott after venting his anger about being dropped on Twitter and the former Newcastle midfielder also refused to travel to the recent away game against Sunderland.
McDermott recalled Guthrie to the starting line-up for the Boxing Day draw with Swansea and he feared a negative reaction from the home fans at the Madejski stadium.
"Was I expecting boos? They would have been within their rights and I was prepared so it was nice to have the fans' backing," he told The Sun.
"I noticed at Manchester City when I came on last Saturday that they were behind me and they were in the home game, too.
"It was a good starting point for me. It's been a difficult two weeks and I feel I have something to prove.
"I worked my socks off against Swansea and I will get better after not playing for a couple of months. What has gone on is all in the past. I just want to play football and I'm enjoying myself."
Reading sit second from bottom after leaking 19 goals this season and Guthrie believes the team must concentrate on producing more clean sheets.
Speaking ahead of today's clash with West Ham, he said: "Our fans need to understand we cannot always go gung-ho - we've paid a price for that a bit this season. There's a slightly different mentality now within the squad.
"We can only get better playing this way. It's new to us and the first thing is keeping a clean sheet.
"Every game is a big one for us now this season. West Ham is another huge one."