Transfer news: Reading expect Daniel Carrico to remain at Sevilla
Reading are expecting La Liga side Sevilla to take up the option of turning Daniel Carrico's loan into a permanent deal.
Last Updated: 17/04/14 8:53pm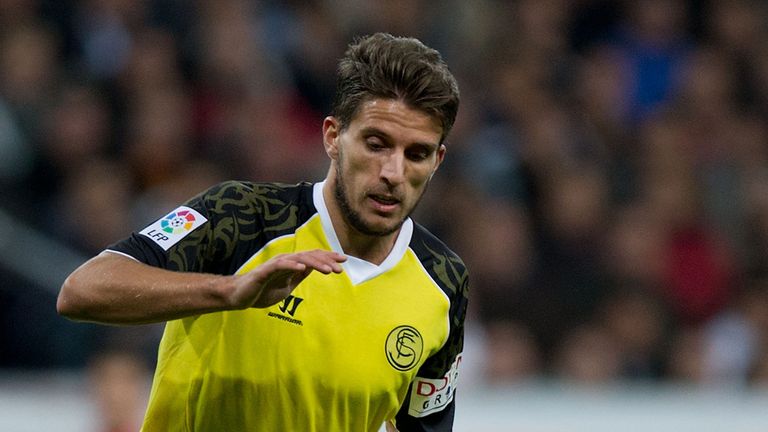 The 25-year-old midfielder completed a switch to Spain last summer on a season-long agreement.
He has impressed while away from the Madejski Stadium, helping Sevilla to a fifth-placed standing and a spot in the Europa League semi-finals.
It had been suggested that the Royals may be tempted to draft him back into their ranks upon his return to English soil, but director of football Nick Hammond believes the Portuguese is likely to remain in Andalusia.
He told the Reading Post: "I have a potential deal in place with Sevilla for him.
"I'm pleased because he's a fantastic boy and he's gone there and played very well. He's a very well respected player in their group.
"Sevilla have an option to buy. He's done very well, so the assumption would be that they will take that option up."
Carrico has managed just three appearances for Reading - with two of them coming off the bench - since completing a move from Sporting Lisbon in January 2013.
Hammond, though, believes his time in England is not a fair reflection on the player he is.
He added: "I think the key is he's playing week in, week out.
"Daniel is a player with a really good CV, but when we took him in the January he hadn't got games under his belt. He was not up to speed.
"Now he's gone to Spain and he's done very well. It's probably been easier for him in terms of the pace of the game, and the position that he's played has allowed him to build a volume of games.
"But if you come into the Premier League, like he did, it can be quite a culture shock, as many have found."