Pompey's plight
Jason Pearce talks financial troubles and hopes for a brighter future at Portsmouth with Chris Burton.
Last Updated: 12/03/12 5:21pm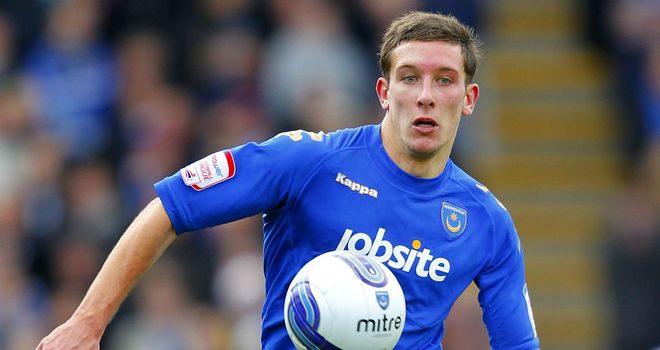 It is fair to say that Portsmouth Football Club has seen better days, with ongoing financial troubles leaving the South Coast outfit facing up to an uncertain future.
It was hoped the dark days of administration which brought about an abrupt end to their Premier League adventure back in 2009 were a thing of the past, with rebuilding work having begun in earnest.
Pompey have tumbled spectacularly back into the abyss, though, with there a very real threat that the club could face liquidation and cease to exist in their current guise.
Hope that a new buyer - one willing to pump the necessary funds into the club and turn their fortunes around - springs eternal, but the clock is ticking.
Talk of a combined buy-out by the club's supporters' trust and a collection of wealthy fans has been mooted, but no deal has been put in place as yet.
Passing the responsibility of running the club over to those who care it about most would appear to be the most sensible idea offered up at Fratton Park for some time, with serious mismanagement having left them in a precarious state.
They are by no means doomed - despite entering administration, incurring a 10-point penalty and slumping to the foot of the Championship table - but they desperately need to re-establish some stability if they are to avoid slipping further into the mire.
Understandably, times are tough for those who find themselves in the middle of the mess, with players and staff attempting to strike the right balance between looking after themselves and helping the club out of a sizeable hole.
One man who is determined to play a leading role in getting Pompey back on the straight and narrow is Jason Pearce, with the defender telling Sky Sports' Chris Burton that while times may be hard, there is always light at the end of the tunnel.
Asked what it is like to be involved with a club suffering financial strife, he said: "It's tough. Results haven't been going great for us and you try to put the off-field stuff that's happening to the back of your mind and just get on with your football, but results haven't been great. We are all trying our best to put the results right, but it's hard when a lot of good players are leaving the club.
Learning
"People looking in just think you should get on with it. As players it can be tough but you have to try and put it to the back of your mind. I have been through what is going on here with Bournemouth and it was tough but you have to learn from it, and learn quickly and put it right on the pitch."
Having been through the trials and tribulations of administration once before, Portsmouth know what to expect this time around, but that does not make things any easier.
Pearce said: "Everyone knows what they are facing. It wasn't dealt with last time properly and now it's happened again. Everyone at Portsmouth Football Club just wants it to be sorted out and everyone to move on. Hopefully that will happen, but at the moment things aren't looking great. We just need to stay positive if we are going to get out of this situation we are in."
Unfortunately, Pompey are not the only club experiencing monetary difficulties at present, with League Two outfit Port Vale and SPL giants Rangers having also entered administration.
On the troubles facing football, Pearce added: "There has been a lot of talk about it, wages and that, and it's hit clubs hard. Outgoings of the clubs are a lot higher than their incomes so it is hitting clubs hard. People are having to look at that. As players, all we can affect is what happens on the pitch, so we just have to focus on that and that is what we are trying to do. The gaffer is doing his best to do that and hopefully results will change for us."
For all of those still on the books of a club in administration, there is a sense of responsibility to the fans - with the teams they support in serious danger of going to the wall.
"Of course you do," said Pearce.
"We want to do what is best for Portsmouth Football Club. The fans come here week in, week out and they are the best fans in the country. We want to do the best for everybody at this tough time, but it is hard at times. At the moment I am captain and I have got to pull all of the lads together, as well as the gaffer, and have a big push towards the end of the season."
One rare positive for Portsmouth in recent weeks has been the Football League's decision to hand them a financial lifeline which should allow them compete their 2011/12 fixture list.
"That was obviously a bonus," said Pearce.
"We hadn't been paid for about eight weeks, but now we've been paid and that is put to the back of your mind now as well. We have just got to focus on football, stay positive, keep everyone together and give it a good go. We have got a massive game on Saturday against Bristol City, they are in and around it as well, so it will be a massive game.
Pressure
"We are at home and will have the fans behind us. The gaffer has said that the pressure is off us. Everyone around us expects us to go down, so we really need to keep the faith and, I keep saying it, stay positive. That's what you need because everyone has to stick together in these hard times. We will certainly give it a good go on Saturday."
There is, however, every chance that Portsmouth will line-up against the Robins this weekend shorn of yet more senior stars, with further exits expected over the coming days.
Pearce said: "It's hard. Stephen Henderson looks like he is going, or has gone, Hayden Mullins, we have had a lot of key players leave the club. It is hard, but it gives another opportunity to someone else to come in and show what they are about. There are negatives, but there are also positives for other people. We just have to keep everyone together and keep everyone going."
Michael Appleton is the man charged with the task of trying to help Portsmouth through a testing time, and Pearce admits the managerial rookie has endured a baptism of fire at Fratton Park.
He said on a man who is taking in his first spell in a top job: "It's been really hard for him. He's a good guy, a good manager and I know he will go on to do well. It is hard for him right now. He wouldn't have expected to come into the club and for this to happen. It's a learning curve for him as well. Things will hopefully get better for him."
Appleton will want to prove that he can make the best of a difficult situation and Pearce, a graduate of the Fratton Park academy system, is determined to do whatever he can to help Pompey turn the corner.
He said: "I did come through the ranks at Portsmouth and it is a club that I keep close to me and I want the best for the club. I will do, as a player, my best for the club and I think the fans know that. We need to make sure everyone else does the same and hopefully we can pull out of it."
Pearce only returned to Portsmouth from Bournemouth last summer, having spent four years away from the club, but he is optimistic, despite what has happened, when it comes to the prospect of seeing out the three-year contract he penned on his arrival.
He said: "When I signed I was told that the financial side of things had been sorted, but obviously it hadn't. It's about learning from these situations and you become a stronger person. I am still learning. Football is a short career, so you have got to keep your feet on the ground and keep working hard.
"When I signed I wanted to see my contract through. I love the club and I love the fans, we just have to see how things go. Everyone knows I love the club and I will do my utmost to keep the club in the league. Hopefully the off-field stuff can get sorted out in the meantime and as a club we can move on. It's not always that easy, but let's see what happens."