Rule could 'destroy' Portsmouth
The Football Creditors Rule could 'destroy' Portsmouth FC, it has been claimed by tax authorities.
By Bryan Swanson, Chief News Reporter, Sky Sports News
Last Updated: 03/04/12 4:39pm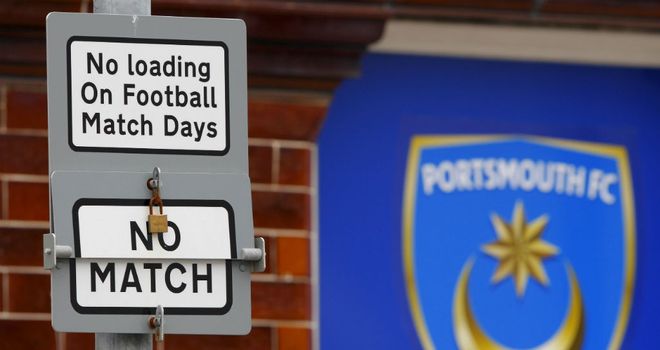 The Football Creditors Rule could 'destroy' Portsmouth FC, it has been claimed by tax authorities.
A skeleton argument of HM Revenue & Customs (HMRC), summarised in the High Court late last year, claimed the Premier League and Football League, who impose the rule, "threaten to destroy the club as a going concern to the disadvantage of the creditors as a whole" unless there is an agreement.
HMRC have attempted to close clubs down over unpaid tax bills, by issuing winding up petitions, and they only receive a fraction of what they are owed unlike football creditors, such as other clubs and players, who are paid in full.
A High Court judge is expected to make a ruling before the end of the season.
Sky Sports News has seen a 106-page document prepared by HMRC for its on-going legal dispute against football authorities to have the rule scrapped and it contains an account of the measures taken during Portsmouth's last three months in the Premier League in 2010.
The HMRC document has also revealed that Darlington FC were required to pay just £3.64 in unpaid tax, despite owing more than £400,000, following their second spell in administration in 2009.
Portsmouth had to pay more than £1.1million in Premier League fines for rule breaches, and other costs, after they entered administration two years ago.
The Premier League withheld £1,163,000 from Portsmouth after a confidential agreement was made on 18 March, 2010 to enable the club to continue to fulfil its fixtures.
Extraordinary measures
The HMRC document stated how the Premier League agreed to extraordinary measures to ensure the club's survival. 
It says that the Premier League agreed to advance £6,886,117 of 'parachute payments', entitled to Portsmouth after relegation to the Championship, so the club could pay wages.
Portsmouth received three advance instalments of £2m from March 22 to May 17, 2010, and a final payment of £880,117 on June 16, 2010.
It is claimed nearly £22.4m was owed to football creditors, by Portsmouth, on May 28, 2010.
According to the HMRC document, this included £17.3m in transfer fees; £1.2m in player bonuses; £1.5m in player image rights; £1.54m in Employee Benefit Trusts and £785,000 for other agreements.  
The tax authorities' document reveals how Darlington were required to pay just £3.64 of unpaid tax in 2009, as part of an administrator's deal that saw unsecured creditors offered 0.0009% of money owed.
In 2007, the HMRC document states that Leeds were required to pay 2% of £7.7m in unpaid tax that equates to around £154,000.
HMRC claim they are owed at least nearly £40m in unpaid tax, between 2000 and 2010, after 53 cases of clubs in England entering administration.
A spokesman for HMRC said: "HMRC's view is that the rule is unfair, unlawful and unacceptable which is why we are challenging it in the courts. We believe it cannot be right that a rule that does not apply in any other form of business is short changing non-football creditors, including the public purse."
Premier League chief executive Richard Scudamore told a parliamentary inquiry into football governance last year: "We will defend it (football creditors rule) on the basis of the chaos that will ensue if we don't have it."
It is understood the Premier League believes the rule is necessary to protect the integrity of its competition, clubs and players.
Clubs can only receive money from the Premier League if they meet its required rules.
A Football League spokesman told Sky Sports News: "These claims were put forward by HMRC during High Court proceedings in November 2011 and The Football League's legal representatives responded in detail at the time. Given the Court has not yet issued its judgement in relation to those arguments, it would be inappropriate for The Football League to comment at this time."