Pompey put boss hunt on hold
Portsmouth are unlikely to appoint a manager until a proposed club takeover is completed, according to PST chairman Ashley Brown.
Last Updated: 19/11/12 5:25pm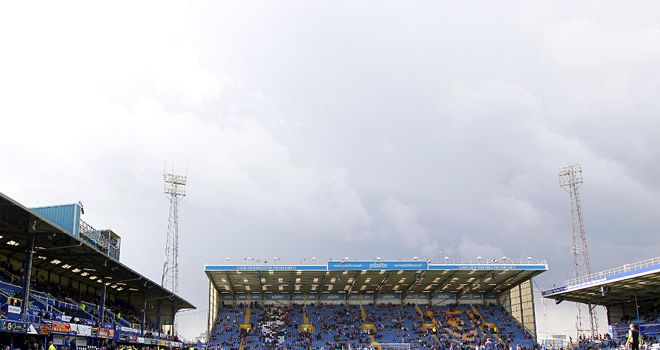 Portsmouth are unlikely to appoint a manager until a proposed club takeover is completed, according to PST chairman Ashley Brown.
The League One side moved a step closer to exiting administration on Thursday when PKF - led by Trevor Birch - signed a conditional agreement to sell the club to Pompey Supporters' Trust (PST).
Pompey have been without a boss since Michael Appleton's departure to Blackpool last month, leaving Guy Whittingham charged with the task of leading the south-coast outfit on a temporary basis.
Former MK Dons and Blackburn boss Paul Ince has been linked with the Fratton Park hotseat, but Brown admits the club are unlikely to make an appointment until the takeover is finalised.
When asked what he knew about a potential approach to the former England international, Brown said: "Nothing at all, as far as I am concerned, on the Paul Ince rumours.
"We have to face facts because, at the end of the day, the administrator is still in charge and he is at liberty to appoint a manager, although I think from our discussions with them it will be extremely doubtful.
"I think their view is to keep the caretakers in until we take over and decide what to do. We have had some loose, informal discussions around managers, but we haven't had any proper sit downs or the drawing up of a shortlist.
"Right now we are behind Guy and Andy (Awford - assistant caretaker manager) and we hope they can try and make the job their own by winning the next few games.
"Of course, over a long period of time, we are going to sit down and have a think about what is right for the club moving forward."
Exiting administration brings a 10-point deduction which would see Portsmouth, who are currently 19th in League One following a six-match losing streak, plummet into the relegation zone.
Brown knows the task in hand, but he is confident the club can beat the drop.
"The 10-point deduction is going to make life very tough for us," he said.
"We will put a case in front of the Football League as to why we believe that shouldn't be applied. Having said that, we are also realistic and know it is something we will have to face.
"That will make survival very difficult. We have already had one decent run of form this season and we just have to find that again to put a few wins together.
"We have been in this position before, we have got out of relegation battles before and I'm sure we can do it again."
With the club likely to be drawn into a relegation battle, their chances of landing a quality successor to Appleton could be affected.
"Of course it will (impact on the manager's situation). But, having said that, there may also not be a huge amount of expectation in the first year if we do get those 10 points deducted," Brown added.
"We are looking to build a team and a management team that can be successful over a number of years. After what we have been through over the last few years, I don't think anyone is going to expect things to suddenly magically improve overnight.
"Hopefully we can find someone who can buy into the concept we are trying to achieve at Portsmouth, by making it one of the biggest community clubs, and who is willing to get on board despite the 10-point deduction."