Portsmouth boss Guy Whittingham still positive club can turn corner
Guy Whittingham hopes Portsmouth's future will soon be resolved in a positive way and says morale is still fine.
Last Updated: 11/02/13 10:52am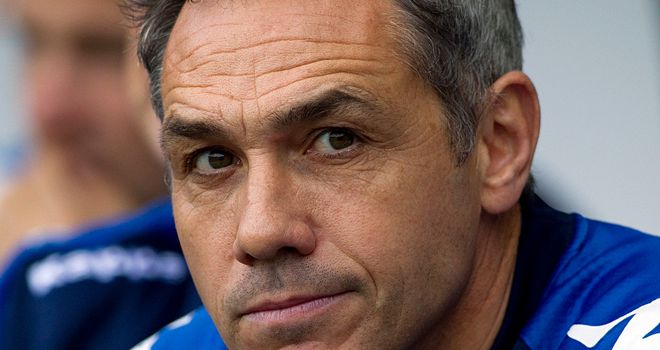 Portsmouth went into administration for the second time in as many years 12 months ago and face a High Court hearing on Thursday relating to the sale of their Fratton Park ground.
Fans' group the Pompey Supporters Trust want to take over the club but they have been warned that if they fail to exit administration by the summer they will be thrown out of the Football League.
While the uncertainty continues off the pitch, Portsmouth slumped to a club-record ninth successive loss on Saturday at Bournemouth to slide further towards relegation.
Whittingham admits it has been a difficult time but has praised everyone at the club, particularly the supporters, for their tremendous efforts.
Asked about morale, the Pompey boss told Sky Sports News: "It's still fine. We put in a decent performance down at Bournemouth, especially in the first half, and people have got to remember that the situation we are in, it's not easy to go out and play football.
"But everybody is doing their best. The players are doing their best, the staff are doing their best, and the fans are just fantastic, so we just keep going on and make sure we are competitive and looking to win games.
"Of course it is not an ideal situation, but we make sure we train properly and make sure we play the best we can."
Whittingham is still confident that better times are ahead for Portsmouth, adding: "It's a hell of a challenge and everybody down here realises what a challenge it is.
"It is a big effort to keep this club going and I think everybody down here believes we can come through the other side, and we all want to be here when the club becomes successful again.
"There are lots more twists and turns to come because this is Portsmouth Football Club, but we are all very positive that there will be a positive outcome and we can look back and put it down to experience."
A terrible thing
Having been in the Premier League this time three years ago and won the FA Cup as recently as 2008, Whittingham hopes that Portsmouth's dramatic fall from grace will serve as a stark warning to other clubs.
He explained: "I just hope that what is happening down here doesn't happen to anyone else because it is a horrible situation and people need to learn from it.
"We just can't wait for the day when we can come out of administration and we can push on."
Asked if anything could have been done differently to avoid the current situation, Whittingham added: "Something must have been, all those years ago.
"When we were in the Premier League with all that money coming in, for us to be in this situation is a terrible thing to have happened."