Pompey sensation
Graeme Bailey catches up with Jed Wallace, who has made a big impact at Portsmouth this season.
Last Updated: 27/05/13 11:38am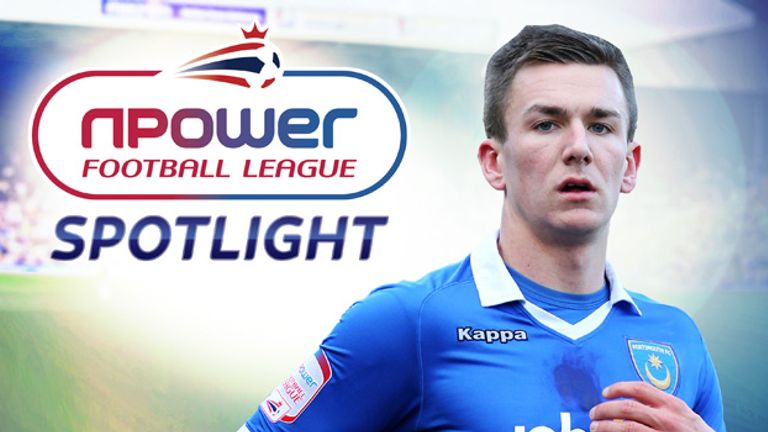 The 2012/13 campaign is about to enter the final straight, with promotion pushes and relegation battles now in full swing.
Here at Sky Sports, we continue to take you to the very heart of the Football League, with our Spotlight features intended to give you a greater insight into the clubs and players that keep us on the edge of our seats.
We are hoping to bring you the views and thoughts of a representative from each of the 72 teams over the course of the season, with those involved asked to give their take on the division they compete in, the club that pays their wages and those we should all be keeping an eye on.
Next in our hot seat is Portsmouth's Jed Wallace, with the Pompey star discussing his first campaign in League One with Graeme Bailey.
So Jed, it all started off in the non-league for you, not that long ago?
There were always a few league clubs knocking around but I was in a really good Sunday league team and since then around seven from that league have gone professional, so I was happy with that rather than join an Academy, get bombed out, and then start again. I was happy at school and I thought as long as I am enjoying my football there was no need to move at such a young age.
How did you end up at Pompey?
After school I was playing in the first team for Farnborough at about 16 with Steve King and a few of us went from there. He said he wanted to take me with him, so I went with him to Lewes and played about three pre-season games and there was a few teams watching, one of those was Portsmouth and the rest is history.
You have had some loans which seem to have really got you going?
I went back to Farnborugh on loan last season as I needed to get out. The problem with the youth team was that it was a bit too nice and you need realism sometimes as you can't play against kids for ever. With Pompey we didn't know if there was going to be a club so you had to make yourself known. So I went to Whitehawk and they really looked after me and I enjoyed it, and that opened a new chapter for me.
After your great form at Whitehawk you were soon back at Portsmouth, which became a necessity...
I am grateful really that the other players were leaving, you have to look after yourself, and to be fair I felt I was due a bit of luck and I was playing well and it came at the right time - I got my debut and I haven't looked back.
How have you found life back at Portsmouth, it must be hard to concentrate with so much happening off the pitch?
Andy Awford knows the kids, and it has been massive for the young guys. We just have to keep going and pick up as many results as we can. Because there are not many people at the club, everyone is settling and coming together and I just hope we can keep this squad together. What will be, will be, we will carry on and continue to do what we can.
You have already hit double figures, you have emerged as a goalscoring midfielder...
It is a big part of my game being box to box, but only really this year I have added it to my game. I did a lot of finishing work in pre-season and I scored at Whitehawk and they kept coming and it is the same with Portsmouth.
Your form, coupled with your age, has seen you called up by England. That has led to interest from some Premier League clubs - is that a bit weird seeing yourself linked?
It is the same with all players, the young lads who are playing with the situation at the club - everyone is looking, the bigger clubs are because they know there isn't much money here and everyone is on short-term deals so if there are young players doing well there will always be clubs looking around.
You have come such a long way already in a short space of time. Playing for a club like Portsmouth at your age must be a real buzz?
"This has always been my goal. I went to Farnborough and Whitehawk with the goal of always getting back to Portsmouth and just doing well. Then whatever happens, happens - but I am just really enjoying it - everyone knows what it is like to play at Fratton Park. I was playing in front of 100 people at Whitehawk 10 weeks ago and now I am playing in front of 10,000 at Portsmouth. Even if the 10 points come off and we get relegated, the size of Pompey is ridiculous - it is phenomenal."