A year in the life
"We take it as a great honour and also a huge responsibility" - Pompey Supporters' Trust chairman Ashley Brown talks to Sky Sports about the stress, strain and ultimate satisfaction of saving a football club
By Peter Fraser - Follow me on Twitter @SkySportsPeteF
Last Updated: 18/11/13 11:13am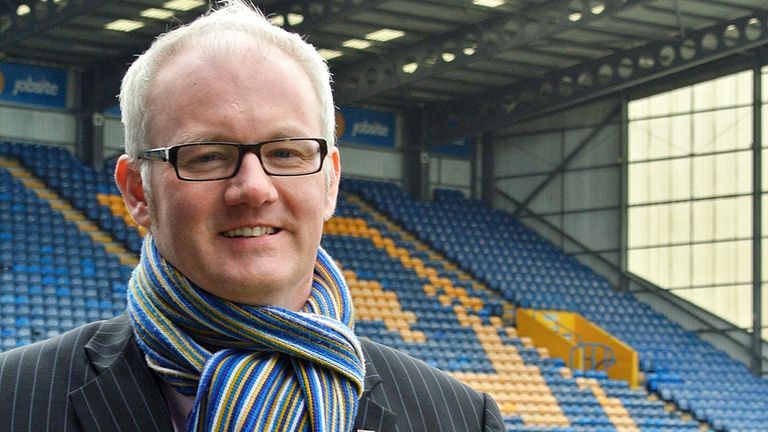 It was Portsmouth's final home game of last season. Stepping out onto a sun-drenched Fratton Park pitch before what would prove to be a fitting 3-0 win over Sheffield United in front of a crowd of 18,433, the club's biggest gate of the campaign, the emotion of what had been achieved washed over Ashley Brown.
Portsmouth were already heading for League Two on that day in late April regardless of the victory over Sheffield United. A club formed in 1898 in one of England's most famous city naval ports; a club who had won the FA Cup as recently as 2008 before again reaching the final in 2010; a club who had been mixing with the Premier League's elite, were relegated to the lowest tier of the Football League. They were doing so for the first time since 1978. This was of course due to having been engulfed in administration for the previous 14 months and it was a financial plight which had seen them go on a mammoth 23-match winless run earlier in the season when they had been forced to field teams of youth players who had never previously played professional football. The glamorous UEFA Cup nights which had followed their FA Cup win, facing AC Milan - the AC Milan of Kaka, Ronaldinho, Gennaro Gattuso, Filippo Inzaghi and Andriy Shevchenko, were just five years in the past but could have been a lifetime ago.
However, that win over Sheffield United was still a time for celebration. Portsmouth were out of administration. Before kick-off, Brown, the Pompey Supporters' Trust (PST) chairman, along with Portsmouth's new club chairman, Iain McInnes, had been asked to take to the field in order to be paraded in front of supporters in what was the first home game since their fan-led consortium's successful takeover of their beloved club. Portsmouth were now a Community Club.
Portsmouth had previously twice been declared insolvent in the past three years in the wake of speculate-to-accumulate past ownerships. When that money spent on expensive squads of star names had dried up, Portsmouth had been doomed. Eventually coming out of administration thanks to PST was therefore a day many thought might not have happened. For coming out of administration, Portsmouth incurred a 10-point penalty, without which they would still have been relegated, but the end of hellish years of seven different ownerships and debts at one time estimated at £135million meant the golden sunshine above Fratton Park which shone over that victory against Sheffield United was truly symbolic of a new beginning.
PST, combined with McInnes and a few other wealthy investors, had just days earlier completed the purchase of Fratton Park for a reported £3m from Portsmouth's former major creditor, Portpin, led by Balram Chainrai. It was the final step to completing the takeover and it came at the end of a lengthy, bitter legal battle. Therefore when Brown, a Portsmouth fan of 40 years whose mum used to take him to Fratton Park as a baby when his father was away in the navy, and McInnes took to the field that day in April, they did so with self-confessed tears in their eyes.
Wind the clock forward to the current day and there is understandably still immense pride for Brown, who is now an elected member of Portsmouth's board. When we spoke last week of his huge sense of achievement, he said: "Yes, yes and there are a lot of people to thank for that. Sometimes you still have to pinch yourself. You find yourself helping to run the club that you have supported all of your life - it is incredibly rewarding. We are all very humble about the position in which we find ourselves and we take it as a great honour and also a huge responsibility. We know what this club means to so many people, because it means the same to us."
It would be necessary to go back 12 months to the previous time Brown and I spoke about PST's takeover of Portsmouth. It was in November 2012 in London's Bloomsbury Square at the offices of Supporter's Direct, the UK's leading body in promoting community-owned football clubs. At that time, it was still only a proposed takeover. Brown, an IBM employee for whom - like the other members - PST is a voluntary commitment, had been awaiting an initial High Court date regarding the ownership of Fratton Park that was due in December 2012.

To say then that this past year since our last meeting had been memorable for Brown would be an understatement. Had it been the most eventful of his life? "I think that is probably fair to say," he considered. "Outside of family and kids and various things you go through with them, absolutely. It has been incredibly exciting and challenging. I have got to know a whole new group of people and we have had to bond and work together to make this happen and turn it all around in a short space of time. It has been a huge upheaval but one I do not regret at all."
We were speaking in a week when Portsmouth had just been knocked out of the FA Cup at Stevenage, were eliminated from the Johnstone's Paint Trophy following a miserable 3-0 defeat at Newport County and were hammered 4-0 at AFC Wimbledon in League Two. It is Portsmouth's worst run of form of the season. Brown admitted now being a part of the running of a club influences the manner of thinking about the cups and their money-raising potential. But he also underlined that Portsmouth's budgets are all safely set so cup runs would purely be bonuses. Early eliminations do not damage the club. That manner of thinking regarding cup runs is an insight into the different anxieties which now come with Brown being a club boardmember. Twelve months since the pressures of attempting to take over a football club, he now experiences a varied form of tension.
"It is interesting," he said. "Watching a game is more stressful than it used to be. Over the years of watching Pompey in all the leagues, you become somewhat immune to what could happen in certain games and it is only the really big occasions that get to you. But watching them play now is a trip back 20 years to every single kick of the ball. You do feel the stress get to you and the results feel so much more important, purely because you know the impact it might have on everything else that goes on at the club - whether it be the attendances and money from that or just the fact that the belief and goodwill which is behind everything we are trying to do may disappear. It is incredibly stressful. It is a different type of stress to when we were trying to save the club. But it is still there."
Going back to that day of being paraded to fans before taking on Sheffield United, that spotlight - doing media interviews or general recognition - is not something Brown has ever sought. But he also acknowledges the need to be approachable. As a fan himself, he wants a level of interaction between supporters and the club. It is the vision of the Community Club.
During our interview he explained how at a recent dinner for Portsmouth's London supporters' group, the organiser recognised there were more club representatives in attendance than at previous functions in the past 10 years combined. Similarly, at a shareholders' meeting this summer, the Portsmouth playing squad, apart from one member, were in attendance to speak to fans and pose for pictures. Manager Guy Whittingham, a three-time player with the club who at the beginning of November celebrated his 12-month anniversary as boss, has also been "fantastic" in the process. Brown praised Whittingham as someone who "gets Portsmouth and understands what we are trying to do". Portsmouth's current players are also said to be a "completely different scale of footballer" to those from the Premier League years who "did not really want to be in and around Portsmouth".
Portsmouth are of course not the only example around Europe of a fan-owned club. They are not even the only fan-owned club in England. Indeed, their weekend opponents, AFC Wimbledon, have a PLC which is 77 per cent owned by The Dons Trust. But Portsmouth are Britain's most prominent Community Club. It is this which makes them an example to other clubs and Brown explained how they have recently had discussions with troubled Coventry City and Aldershot, while PST are also said to have been invited to Scotland at the end of November for talks regarding Rangers.
Brown believes Portsmouth as a club made a "very quick and immediate" return to the status he knew when growing up as a "people's club". But, by his own recognition, there is still a long way to go. As with any club, board members are not directly involved in the day-to-day running. Portsmouth instead have a dedicated team of people for those duties and they have already addressed the basics in improving some of Fratton Park's facilities, which, Brown said, had been "left to rot over the years". They also plan for some "pioneering work" at the ground to make Wi-Fi internet available throughout to provide match-going spectators with the chance to access dedicated online content and media. Over the next three to five years, it is also hoped further development of Fratton Park will be related to what happens with the adjoining land to the stadium.
At the same time there are Portsmouth's obvious plans to again climb Britain's football pyramid. Following the weekend's defeat by Wimbledon, Portsmouth stayed 16th in League Two. But despite being only six points off the bottom of the table, they are also just nine points behind table-topping Oxford United in a typically unpredictable and closely-fought Football League.
"We have got to be ambitious on the pitch," explained Brown. "That is what all the supporters want and that is going to take quite a bit of work as well. We are not going to risk the club's future by throwing excessive money at it. That is not right way to go. But with careful planning and the right management team in place, we believe we can achieve that."
All of Portsmouth's board are clearly keen for more success. There is still a lot of work to do and the next 12 months will be equally as important as the past year. But, as Brown said, all concerned are aware it is a "huge responsibility" and the reckless mistakes of the past owners at Fratton Park will not be repeated.