Blackburn striker DJ Campbell arrested in connection with match-fixing probe
DJ Campbell and Cristian Montano were among six people arrested following new spot-fixing allegations in football.
Last Updated: 10/12/13 9:27am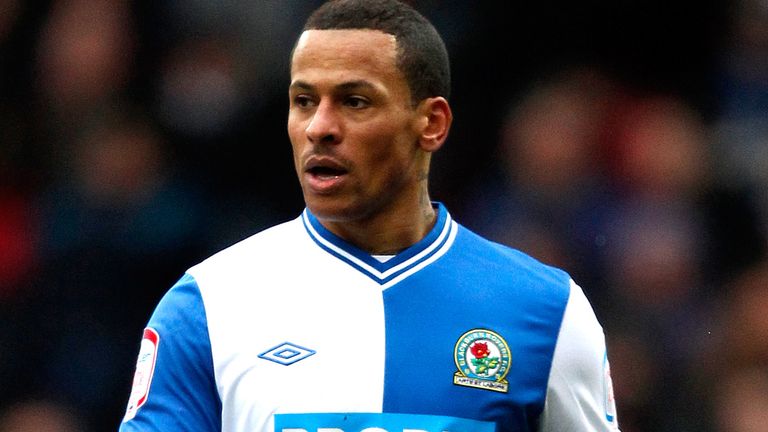 The National Crime Agency is examining evidence provided by the Sun on Sunday, who filmed former Portsmouth defender Sam Sodje claiming he received £70,000 for getting himself sent off in a League One fixture last season.
Campbell, Montano and Sodje have been released on bail along with Sodje's brothers Akpo - who plays for Tranmere - and Steve, who is a businessman.
A sixth man arrested, Tranmere defender Ian Goodison, was released on bail later, while Montano has been suspended without pay by Oldham.
Campbell incurred a yellow card in the Championship clash against Ipswich last week - an incident which is believed to be at the centre of police enquiries.
Montano was filmed claiming that he agreed to get himself booked in return for cash, although he failed to incur a yellow card in the fixture against Wolves in October.
A Blackburn statement read: "Following reports in the national media, Blackburn Rovers can confirm that striker DJ Campbell has been arrested. The club will be making no further comment on what is now an ongoing legal matter."
Speaking at a press conference, Oldham boss Lee Johnson confirmed Montano was being questioned and had been suspended without pay.
Lee also revealed he had rewritten his match programme notes for Tuesday's Johnstone's Paint Trophy tie against Chesterfield to reflect the mood at the club.
He said: "There's no place for any kind of match fixing. It's too beautiful a game for that.
"We've got to stamp it out. We have to remove people from the game that could ruin it."
The Professional Footballers' Association said: "These allegations, if proven, unfortunately demonstrate the real issue football faces in terms of corruption and highlights the necessity of the work carried out by the PFA and other stakeholders in the game in educating players of these risks.
"We take the issue of integrity very seriously and will continue in our efforts to eradicate this evil from our game."
Betting expert Scott Ferguson told Sky Sports News that players at the lower end of the professional game can prove easy prey for corrupt bookmakers.
"You have players lower down the league who may be one bad tackle away from the end of their career," he said. "They've been with various clubs for years and they're still struggling to make it pay.
"It wouldn't take much searching to find people who might not have such a strong ethical background as they once did."
Portsmouth have confirmed a meeting will be held with their players on Tuesday in the wake of the allegations towards Sam Sodje.
Chief executive Mark Catlin said: "All you can do is check the people around you, notice anything suspicious and inform the players how serious an issue this is.
"We will be doing that tomorrow (Tuesday) as a club, speaking to the players and saying we have to be self-policing. If anyone sees or hears anything suspicious it's not a case of dropping a friend in it, it's about upholding the integrity of the sport.
"Things like this need to be dealt with internally. The people who will root this out are the players, the managers and the people within football."