Peter Beagrie
Football League Expert & Columnist
Football League: Peter Beagrie looks at Bournemouth's rise under Cherries favourite Eddie Howe
England's World Cup squad, Rotherham and Craig Hignett also on the agenda
Last Updated: 07/03/14 3:41pm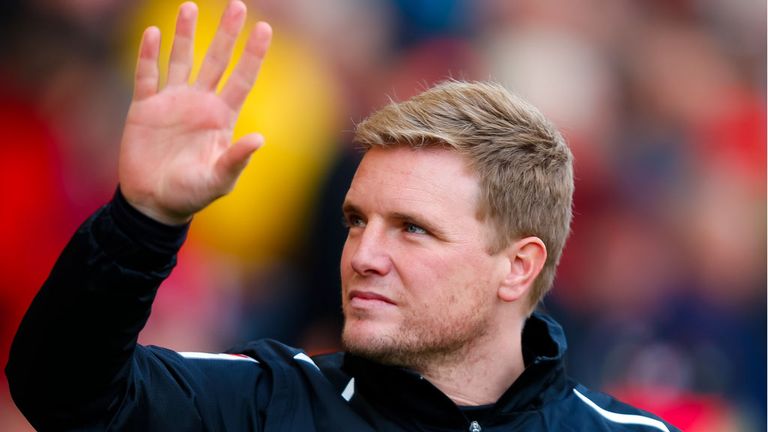 The former winger, who played over 770 games, representing clubs in all four tiers of the English footballing pyramid, including Manchester City, Everton, Bradford, Sheffield United, Scunthorpe, and Grimsby, forms part of the Sky Sports punditry team for all the big matches in the Championship, League One and League Two.
So if you have a poser for Peter, whether it's about your team, a player, match or incident that has caught your eye, or a wider point on the Football League, send it in.
Read below for this week's column where Beags gives his take on the Eddie Howe-effect at Bournemouth, what England should do at the World Cup, and Craig Hignett's habits on the golf course...
SOUTH COAST STARS
Hi Beags, How impressed have you been with Bournemouth and Eddie Howe this season? I know we are not the poorest club in the Championship but I think we have done well to steer clear of the bottom three. Bryan Eccles
BEAGS SAYS: Your side is not the poorest in the Championship, Bryan, but I do understand the amazing journey that you and your fellow fans have been on over the last few years. Eddie has always had a brilliant affinity with the club - a club whose fans brought him back from south-coast neighbours Portsmouth with their own money - and has flourished since returning. He risked being branded a failure and a quitter after a less-than-spectacular spell in charge of Burnley, but has more than justified his decision and enhanced his reputation as a first-class manager/coach by taking the side he supported as a boy from the relegation zone to promotion and now 12 points clear of the drop zone in the Championship, courtesy of last week's 5-0 thrashing of Doncaster. Howe has the trust of everybody at Bournemouth, most importantly the players, who to a man give him everything week in, week out. There were times at the beginning of the season when that trust was tested with a couple of heavy defeats, but Eddie's young and vibrant team has grown in stature and belief and can get even better. Yann Kermorgant's signing gives them a different dimension; he is brilliant in the air and a great link-up man, so he will allow Lewis Grabban or Tokelo Rantie to play on the shoulder and use their pace, while he will also give the widemen, particularly Matt Ritchie, something to aim for. Eddie is studious and making all the right noises at a place he loves and will secretly be hoping for a top-10 finish, if not this season, then next.
SUN ON THE UP
Hi Peter, I know you focus on the Football League but I just wanted your thoughts on what Gus Poyet has done at Sunderland and whether you reckon we will be okay in the Premier League this season? I love Sky Sports' FL72 coverage but I don't want my team to be on it next year. Bradley Hagans
BEAGS SAYS: Thanks for your kind words, Bradley, with regards to FL72 and I can understand your neglect to see the Black Cats on one of our features next season. If it's any consolation, you have a better chance of staying up with Gustavo around than not. Speaking to the players, they genuinely like him and enjoy his training methods, and they are putting what he is telling them into practice on the pitch. Sunderland are stronger, resolute and harder to beat, particularly away from home, with Poyet's shape and pattern of play giving them a fighting chance. The form of Adam Johnson and the return of Steven Fletcher will be pivotal as we enter the squeaky-bum time of the season and the standout fixtures in a tough run-in are against relegation-threatened Crystal Palace and Norwich. Six points are imperative and would see you out of the bottom three sooner or later, increasing the pressure on the other clubs down there. Home form has been poor and must improve, though it is difficult to play with freedom when the stakes are so high. Your team needs its passionate supporters more than ever but I feel West Brom are more in danger of the drop than Sunderland.
YOUTH FOOTBALL?
Hi Beags, whilst thinking about how we can boost England's chances for World Cups and Euros, it seems obvious to try and play fewer games. I did think a few years ago that we could scrap the League Cup, at least for Premier League clubs, but with the last few years being really exciting I have changed my mind. So what would you do, if anything? Winter break? A smaller Premier League? Mark Forbes
BEAGS SAYS: I have to agree with you that the cup competitions should remain untouched as they have regained some of the kudos that had been lost. They provide competitive football for young stars who use these opportunities to show their managers they are ready for the first team and can handle big occasions and big crowds. I can't see the Premier League being trimmed from the current 20 team-format, while as for a winter break, it is a no from me. Pitches and training surfaces are like bowling greens nowadays so the stress on the body is nowhere near what it has been in the past. I genuinely feel it is an attitude of mind, not a lack of ability, that has seen England fail to deliver on the international scene. It has also been a conundrum why top-class players have been unable to take their club form to the national team - is it the pressure of the Three Lions badge or is it the manager's fault for not playing these players in their best positions and giving them the latitude to express themselves? I would blood this World Cup squad with our best youngsters, and ensure there is an emphasis on giving them major roles so that that they can benefit us in the future. I would disregard results in Brazil but that, of course, would mean that the written press would have to be more united than ever in their support and understand that to become genuine contenders for major tournaments we need to sow the seeds of change now.
BORO BOY
Hello Peter, What do you think Craig Hignett will bring to Middlesbrough now that he is back at our club as Aitor Karanka's number two? Simon Dean
BEAGS SAYS: Craig's biggest assets are his likeability and communication skills and when you have a stern foreign manager he is the perfect go-between for boss and players. He was highly successful as a player at Boro and very popular whilst operating in the Teessiders' academy before he took up the offer to become Colin Cooper's assistant at Hartlepool. Craig's success has been quick but not unexpected; the Scouser still resides in the North East area and has a real opportunity to enhance his glowing reputation as a coach at his adopted club. If Karanka's reign is short-lived, I can guarantee that if Craig doesn't take over he will be retained by the incoming manager such is his ability to get on with people. I wish him luck at my old side as he eats, sleeps and drinks football and has an old-school attitude but new ideas. His only negative is his dodgy golf handicap, which works in reverse - the better he gets the more shots he gives himself!
A MILLERS TALE
Is automatic promotion out of Rotherham's grasp? Shane Marston
BEAGS SAYS: Unfortunately, I think it is, Shane, as it would mean that three of the four teams above you would have to have a poor run and I don't see that happening. Also against you is that Wolves and Brentford have two games in hand so I think their respective eight and five-point advantages are too big. Having pointed out the negatives, it is time to discuss the positives. The Millers have played with a flair and style and only been outscored by free-flowing Leyton Orient, while Steve Evans has bought well, utilised the loan system brilliantly and taken the club forward by capitalising on last season's promotion. Nobody would fancy playing Rotherham in the play-offs and making them would be an incredible achievement in such a short space of time, but it would be justification for the chairman's investment on and off the pitch. I am yet to witness Rotherham in their new surroundings but aim to do so between now and the end of what could prove a sensational season.
PLAY UP POMPEY
Will Portsmouth go down this season? I don't think I can bear another relegation... Leon Ellery
BEAGS SAYS: I don't think your suffering will continue, Leon, as I feel Pompey will retain their Football League status. In the last 12 games, only Bury, Bristol Rovers and Northampton are below you and the seven-point gap between your side and the bottom three may close further over the nail-biting coming weeks. Keep the faith, though.
Send your question to Beags using the feedback form at the bottom of this page or at the base of any of Peter's articles...