Kieran Trippier exclusive: I knew I had to work harder when Kyle Walker left Tottenham
Last Updated: 26/08/17 12:06am
Kieran Trippier says he knew he had to work even harder at Spurs when he heard his friend Kyle Walker was leaving for Manchester City.
Walker joined City for £50m in July, and having played second fiddle to his team-mate at right-back, Trippier is now first choice.
The 26-year-old, who was signed by Mauricio Pochettino from Burnley in 2015, says he was not necessarily happy to hear that Walker was leaving, and says the two bounced off each other at Spurs.
Trippier told Sky Sports: "We had a great relationship, me and Walks, obviously there were rumours that he was leaving, but people move on.
"My reaction was that I just need to work even harder, to keep working hard on the training field so when I get the opportunities on the pitch I can do the best to my ability for my team-mates and the club.
"I wasn't [pleased to see him go]. I've known Walks for years, we were really good mates even when we were here together, and whoever we're playing we always tried to encourage each other and help each other. We did that when we were here.
"But Walks has moved on now to Man City, and I just want to do my best to keep the right-back slot my own. Obviously I've worked hard in pre-season, and since I've been at Tottenham to be honest, I've waited patiently.
"But I was delighted that I got the nod to start against Chelsea. I want to work hard in training, and make sure I can keep the shirt."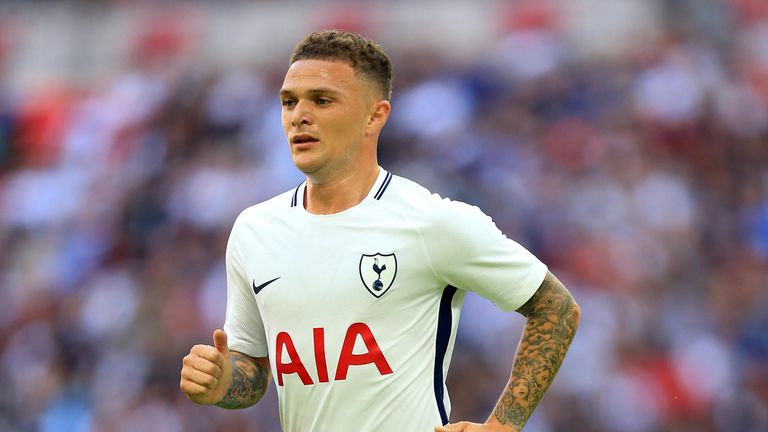 Trippier, who faces his old side Burnley at Wembley on Sunday, says the role of the full-back has changed over the years, since he was a youth player at Manchester City, and says Pochettino has given him the freedom to attack as well as defend at Spurs.
"I'd say so. It depends which formation you're playing. Since I've been here I've been attacking more, which I love doing, and the manager gives you the freedom.
"I really thrive off it and really enjoy it. With the manager that we've got here, I can always improve off his ideas."
Spurs were beaten in their first home game of the season at Wembley, and despite question marks over their form at the stadium, Trippier said he felt like they were at home and praised the supporters.
"I felt like I was playing at home, I thought the fans were amazing from start to finish. Even when we went 1-0 down, the fans were behind us, and we can feel that as players on the pitch.
"The fans are a big factor in the games for us, they're very loud and that's what we want."
Watch the extended interview with Kieran Trippier on Soccer Saturday from midday on Sky Sports Football