Is Tottenham midfielder Christian Eriksen the Premier League's top creator?
By Adam Smith
Last Updated: 23/09/17 11:07am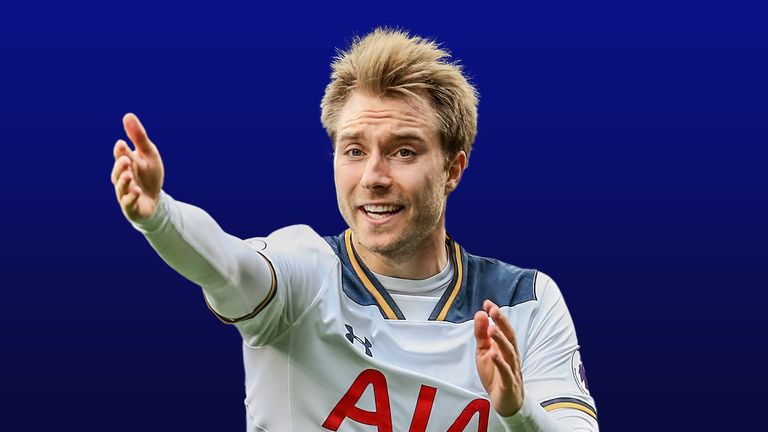 Ahead of Tottenham's trip to West Ham live on Sky Sports this Saturday, we look at Christian Eriksen's stats to determine whether the Spurs playmaker is the Premier League's top creator…
Eriksen signed for Spurs in August 2013 for £11.5m from Ajax and has been a regular in the side under three different managers since.
His season-total stats are boosted by a tendency to remain fit, having made 35 or more league appearances for three consecutive seasons and has completed the tenth-highest number of minutes since August 2013 with 11,653.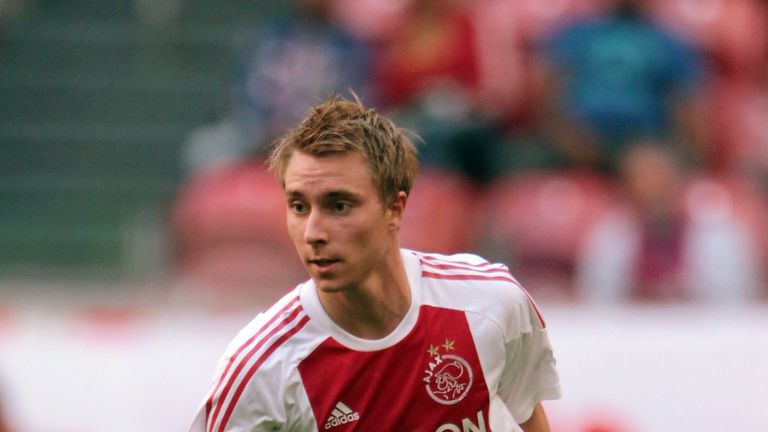 In addition to avoiding lengthy injuries, his fitness is epitomised by having run more kilometres than any other player last term, bar Gylfi Sigurdsson, covering 431km during 36 league appearances - the equivalent of 10 marathons.
The Denmark international has also ranked among the top 10 players for chances created in each of his four seasons in England, improving that rank year-on-year.
Last season, Eriksen finished as the Premier League's top provider for the first time, creating a table-topping 112 chances.
So it's no coincidence that Tottenham scored a league-high 86 goals during the campaign, and the Dane was involved in more than a quarter of those goals - scoring eight and assisting 15.
Across Europe's top five leagues, Eriksen ranked third for chances created and third for assists - reinforcing just how pivotal the 25-year-old is as Tottenham's source of goals and creativity in midfield.
Top five players for chances created in the 'big five' leagues, 2016-17
| Player | Chances Created |
| --- | --- |
| Ryad Boudebouz | 117 |
| Dimitri Payet | 113 |
| Christian Eriksen | 112 |
| Kevin De Bruyne | 103 |
| Mesut Özil, | 100 |
Top five players for assists in the 'big five' leagues, 2016-17
| Player | Assists |
| --- | --- |
| Emil Forsberg | 19 |
| Kevin De Bruyne | 18 |
| Christian Eriksen | 15 |
| Morgan Sanson | 14 |
| Gylfi Sigurdsson | 13 |
| Luis Suárez | 13 |
Unsurprisingly, the main benefactor of his distribution last term was Golden Boot winner Harry Kane, who converted six of Eriksen's assists.
Eriksen also assisted four of Heung-Min Son's 14 goals and another three for Dele Alli - in addition to assisting Mousa Dembele and Victor Wanyama.
His involvement in Spurs' goals has also increased for three successive seasons, having been involved in 12 goals during 2014/15, another 19 the following season, before his 23 last term.
However, while Barcelona pursued Liverpool's Philippe Coutinho throughout the summer, few proposed Eriksen as an alternative target - but why?
In April, while Spurs were seriously challenging Chelsea for the title, Sky Sports pundit Jamie Redknapp said: "If he [Eriksen] had tattoos and a different haircut, we wouldn't stop talking about him! He just looks like a nice boy.
"If he had tattoos and a different haircut, we wouldn't stop talking about him!"
Jamie Redknapp
"If he did something completely different, like a crazy celebration, we would talk about him. He's such a talented player but because of all the other players around him, he doesn't get the praise he deserves."
There is, perhaps, an element of truth within the intended humour.
So how good is Eriksen and in what areas does the 25-year-old excel? We checked his stats…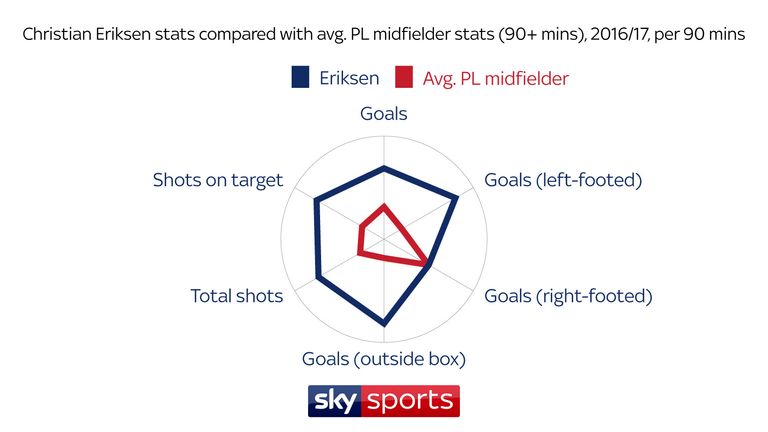 The radar graph above compares Eriksen's attacking stats against the average recorded by Premier League midfielders per 90 minutes last season.
In terms of goals, the Dane dwarfs his counterparts - scoring more than twice as many goals, primarily from his left foot, and more likely to find the back of the net from long range.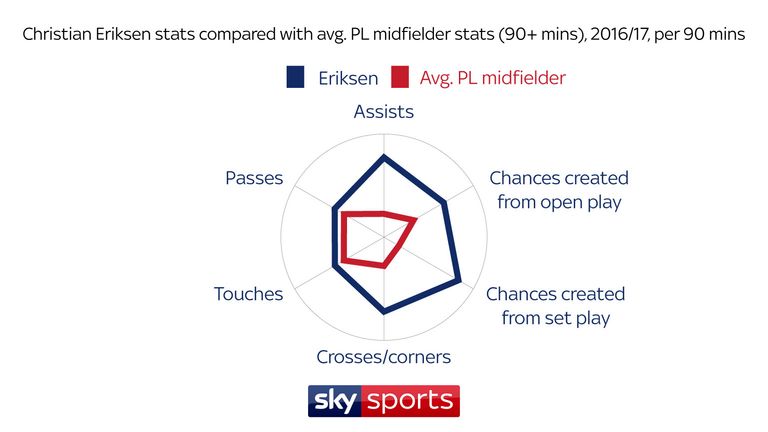 Eriksen makes a similar number of passes per 90 minutes to the average midfielder, attempting 56 compared with 46.
Of those passes, on average, 47 per cent are directed backwards away from goal, 30 per cent forwards and 23 per cent sideways - which suggests an element of variation in his passing approach.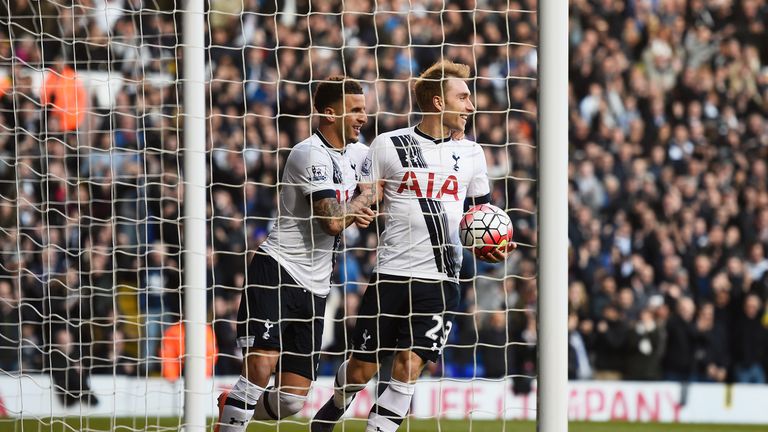 However, the Dane will miss his top partner for passing exchanges from last season, having made 448 combinations with Manchester City-bound right-back Kyle Walker last term.
Christian Eriksen passing combinations, PL 2016/17
| Passing partner | Pass combinations |
| --- | --- |
| Kyle Walker | 448 |
| Eric Dier | 354 |
| Victor Wanyama | 344 |
| Dele Alli | 334 |
| Mousa Dembélé | 285 |
But in terms of meaningful penetration, Eriksen is three times more likely to make an assist or create a chance from a set play - and twice as likely to create a chance from open play or attempt a cross.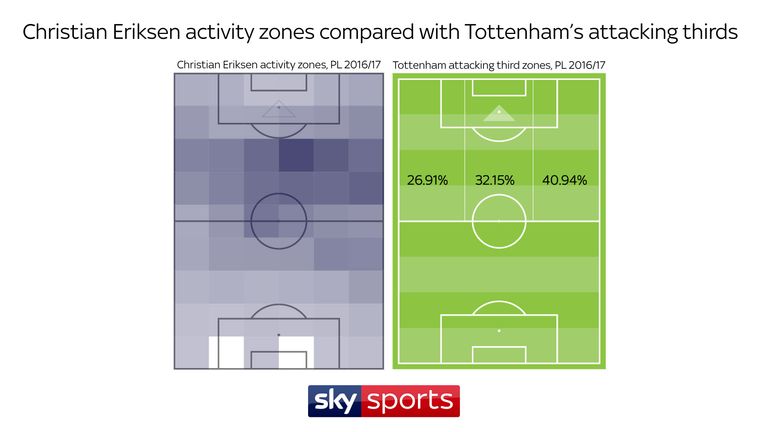 The activity map above shows how Eriksen prefers to operate in the central and right-channel attacking third. Those areas of influence have a considerable impact on Tottenham's overall attacking areas. The map on the right-hand side shows a similar concentration of activity - although Kyle Walker would have also boosted attacks down the right flank.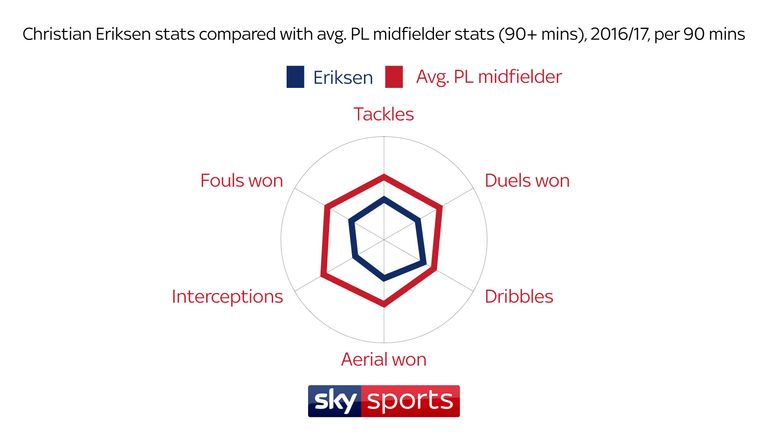 There are few areas in which he underperforms, but his stats reveal below-average totals for attempting dribbles, making tackles and interceptions, and winning duels or aerials.
But with Victor Wanyama or Mousa Dembele lining up alongside him, Eriksen is able to concentrate on applying his strengths: creating goals and scoring them.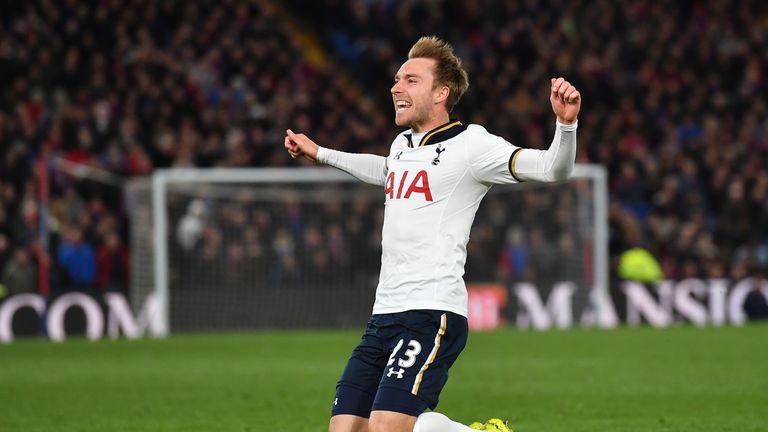 He has continued to be Tottenham's primary creative engine this term, already registering two assists and scoring another and will become the all-time top Danish goalscorer in the Premier League, surpassing Nicklas Bendtner, if he scores his 33rd goal in the league on Saturday.
So is Eriksen the Premier League's top creator? His stats make a persuasive argument to suggest he is.
Watch West Ham v Tottenham live on Sky Sports Premier League from 11.30am on Saturday.