Harry calls for Modric talks
Harry Redknapp feels chairman Daniel Levy needs to speak to Luka Modric in an effort to persuade him to stay at Tottenham.
Last Updated: 23/08/11 1:25pm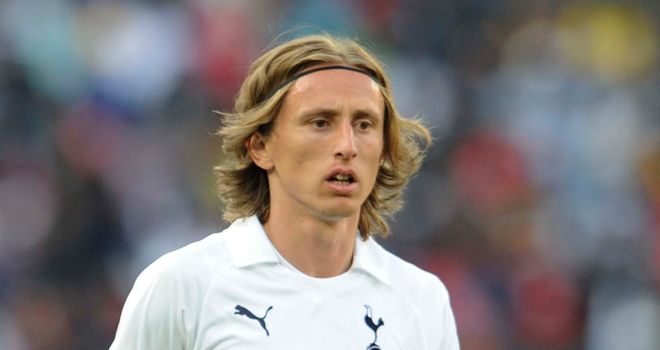 Harry Redknapp feels Tottenham Hotspur chairman Daniel Levy needs to speak to Luka Modric in an effort to persuade him to stay at White Hart Lane.
Modric has been hankering after a move to Chelsea this summer, with Spurs having already rejected two bids from their Premier League rivals.
The Croatia international was not in the right frame of mind to play in Spurs' opening league game of the season on Monday when Redknapp's side lost 3-0 at champions Manchester United.
Redknapp feels the 25-year-old is 'confused' and has not given up hope of hanging on to the influential midfielder beyond the transfer deadline.
However, after being told by Levy at a summer meeting he would not be sold under any circumstances, Redknapp believes clear-the-air talks are required, with a new contract to follow.
Falling out
"The chairman has to sit down and have a chat with him," said the Spurs boss.
"They probably fell out a little bit over that first meeting.
"If they can have a meeting and resolve the whole situation and Daniel tells him we need him, he is important and that we are ambitious and will bring one or two players in, you might find the boy will be okay.
"The chairman has also said he will look at his contract in a month or two. He told me he would do that."
If Modric is not allowed to go, Redknapp knows he may have some reassurance of his own to deliver, however, he is confident he can pick the player up once the 31st August deadline has passed.
"If anyone can pick him up, I can," said Redknapp. "I have a great relationship with him.
"People have to understand it is not an easy situation.
"If someone offered to treble anyone's wages, they would find it difficult, wherever they worked. That is the situation the boy is in.
"If someone offers £150,000 a week rather than £50,000, you are going to have your head turned.
"Some players can handle it. I know players who have caused havoc in the dressing room in order to get a move. I have seen it so many times. But he wouldn't cause anyone a problem.
"Let's be truthful. He wanted to go, but he has just got confused with it all."