Bond - Bale can get better
Tottenham assistant manager Kevin Bond believes the best is still to come from ever-improving Gareth Bale.
Last Updated: 05/02/12 4:47pm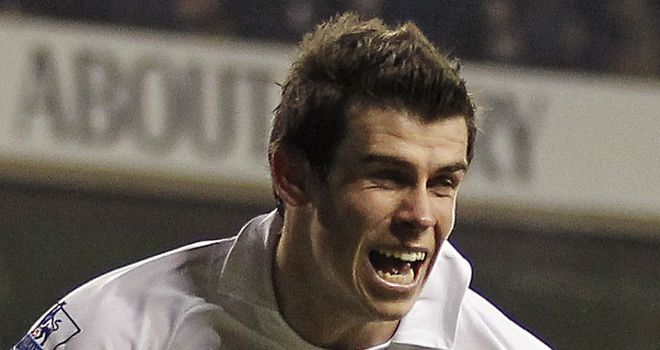 Tottenham assistant manager Kevin Bond believes the best is still to come from ever-improving Gareth Bale.
Bale set the UEFA Champions League alight by helping Spurs destroy Inter Milan last season and has kicked on this term, scoring 11 goals and providing countless assists to help turn Harry Redknapp's side into genuine title contenders.
The Welsh wizard has been in particularly good form over the last month and has scored three in his last two games to help him pick up the Premier League player of the month award for January.
He now operates as effectively on the right flank as he does in his natural position on the left and has recently started venturing inside a lot more, allowing him to score more often.
Bond has kept a close eye on Bale's progress since he first saw the winger come through Southampton's youth ranks and has been impressed with his performances over the last 18 months.
"He's on top of his form, you can see he is full of confidence at the moment," Bond said.
Improving
"He is improving, he has done terrific and I think there is still more to come from him and he wants to improve as well.
"We were with him when he was at Southampton and we always thought he was a fantastic prospect.
"Then he had a difficult period when he first came here. He found it difficult to get in the side. He tried to get in at left-back but couldn't get a game there and now he seems to have evolved.
"Now he has a little bit more freedom.
"He has added to his game. He has a bit of variation, he comes inside a bit. It helps him and makes it difficult for opponents to pin him down.
"He has always been a good player he has kicked on in the last year or so."
Adebayor praise
While there have been no qualms about Bale's performances, concerns have been raised about the form of Emmanuel Adebayor.
The striker started his career at Tottenham in fine style, but he has been wasteful in front of goal on several occasions recently and has failed to hit the net in his last seven games.
Bond disputes the idea that the former Arsenal man is losing his touch, however, and instead praised the striker's all-round game, which he believes has helped the team considerably this season.
"He's been terrific for us," Bond said. "He's chased people down, he's everywhere and anywhere.
"The fact that he hasn't hit the net recently doesn't mean he hasn't made a big contribution.
"He's had a few chances that haven't gone in lately. That's how it is for strikers but we're not dwelling on that.
"He's a very positive guy. You haven't got to do anything to keep Ade's spirits up. He's a great guy."