Assou-Ekotto hails Harry
Tottenham left-back Benoit Assou-Ekotto has revealed there would be sadness in the dressing room should Harry Redknapp leave.
Last Updated: 17/02/12 1:10pm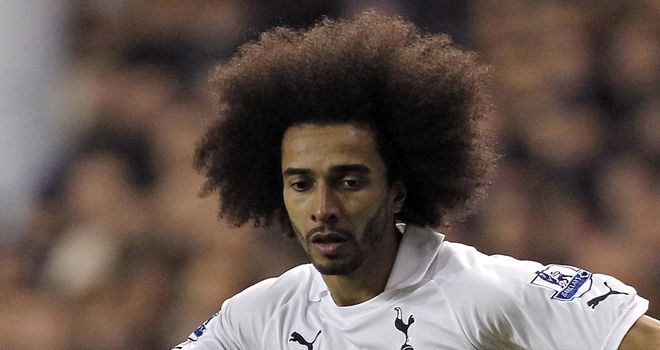 Tottenham left-back Benoit Assou-Ekotto has revealed there would be sadness in the dressing room should Harry Redknapp leave.
Following Fabio Capello's resignation as England manager, Redknapp has become the firm favourite to replace the Italian.
Assou-Ekotto believes whatever decision the manager makes will cause upset one way or another, but remains adamant he wants to see Redknapp stay at White Hart Lane.
The full-back netted in the fourth minute for Spurs against Newcastle last time out as they thumped the Magpies 5-0 and has praised the manager for allowing freedom of expression within the squad.
"I am a Tottenham player but I am not English so I hope England fans can forgive me when I say that I would like Harry Redknapp to stay at Spurs," he told the London Evening Standard.
"It may sound selfish but Harry has been very good for me so it is natural that I don't want him to go.
Special
"If the Football Association want him to be England manager he will have a very tough decision to make and no matter what he decides, some will be happy and others will be sad. All I know is that he is our gaffer at the moment and we are enjoying it.
"When I think about it now, I wonder what I was doing so far up the pitch in the fourth minute but that is what Harry has got us doing. That is what makes him so special.
"He encourages us to play football and to express ourselves. He even lets me play with my afro, although I must confess that is more down to my laziness and unwillingness to go out in the cold to get my hair done."
Assou-Ekotto was brought to the club in 2006 when Martin Jol signed the 27-year-old from French club Lens, but then struggled to establish a starting place during Juande Ramos' tenure before Redknapp gave the defender another chance to revitalise his career.
The Cameroon international's goal on Saturday saw him double his season's tally, while also hitting a career high, and Assou-Ekotto is delighted to be able to find the net for his team.
Record
"I have broken my all-time record by scoring two goals in one season," he added. "Prior to that I had scored two goals, full stop. I must say they were both beautiful goals and I could have happily retired with those.
"But Emmanuel Adebayor wanted to make goals for everyone against Newcastle on Saturday and I was happy to accept mine."
Next on the agenda for Spurs is a trip to Broadhall Way to take on League One outfit Stevenage in the FA Cup fifth round and Assou-Ekotto recognises the threat of not focusing on the game enough.
"This weekend sees a return to FA Cup action and I know the gaffer has demanded that we take it seriously," he said.
"Being knocked out of Europe could have been a bit of luck, some of the teams left in it will have been distracted by European competitions and it has allowed us to rest longer.
"If we don't take Stevenage seriously, they will hurt us. Somebody told me that they beat Newcastle quite recently so we cannot take them lightly."