Appleton braced for the drop
Portsmouth manager Michael Appleton conceded it is only a matter of time before the club are relegated following defeat by Millwall.
Last Updated: 10/04/12 11:23pm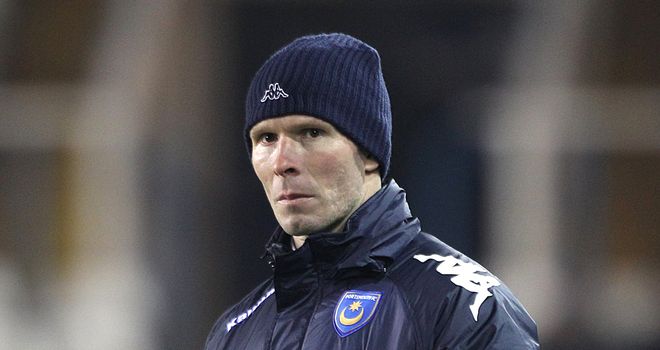 Portsmouth manager Michael Appleton conceded it is only a matter of time before the club are relegated from the Championship following defeat by Millwall.
Pompey could have moved to within seven points of the South London club with victory at Fratton Park, but instead fell nine points adrift of safety with only four games remaining.
And Appleton now fears Portsmouth are set to play in English football's third tier for the first time since 1983.
"I'm realistic enough to know that we're going to have to win four games and unless we do we're going to be looking at playing in a different division," said Appleton, whose side were beaten by Harry Kane's first-half strike.
Andy Keogh controlled a long ball eight minutes before the interval, twisted into space and teed up the Tottenham loanee, who stepped inside his marker and rifled a finish into the bottom-left corner from 20 yards.
A game too far
In an otherwise uninspiring affair, Pompey had plenty of territory and possession but lacked a cutting edge.
After a brave 2-2 draw at rivals Southampton on Saturday, this looked a game too far for many of the Football League's smallest squad, and provided a tame end to Pompey's survival hopes.
"It's obviously disappointing," added Appleton.
"We started the game really well, created a few good opportunities, got in behind them, but the first goal in football is so important and we've allowed the centre-half to lump a ball up the field and given a really poor goal away.
"You could see in the second half the confidence oozing away from the players and it wasn't nice to see given the amount of effort they've put in over the last few weeks.
Difficult night
"It was a difficult night, but you learn a lot about certain people tonight. There's a lot I'll learn about a few of them tonight.
Millwall assistant boss Joe Gallen was full of praise for on-loan goalscorer Kane after a tireless performance from the 18-year-old and his strike partner Andy Keogh.
"I don't want to talk him up too much because he's decent," said Gallen.
"He's a very good finisher, very good all-round game and we're thankful to Tottenham for letting us have him.
"I think he's going to score lots of goals in his future. He loves football, he loves training - he gets annoyed when we pull him away from finishing training because we're worried he's going to get a thigh strain."
Asked about a permanent move for Kane, Gallen added: "He's got the lot. We've got to try and make sure we get some points and then we can concentrate on next season. It would be great if we could.
"We're very close to staying up, but not yet there."