Redknapp targets cup glory
Harry Redknapp believes it is time for Spurs to end their FA Cup drought by beating Chelsea in the semi-final on Sunday.
By Murray Burnell
Last Updated: 13/04/12 1:53pm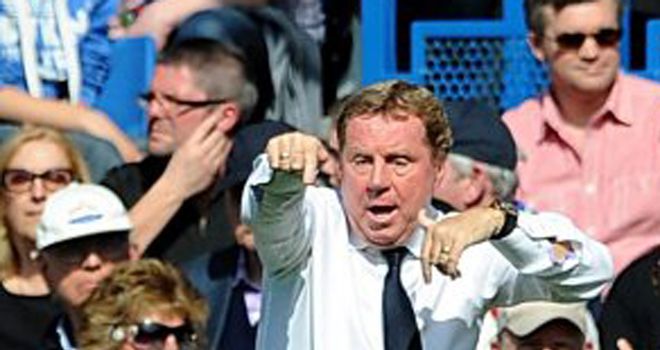 Harry Redknapp believes it is time for Tottenham to end their FA Cup drought by beating Chelsea in the semi-final on Sunday.
Spurs have not won the competition since 1991, despite winning it seven times prior to that occasion.
Only Arsenal and Manchester United have won the famous trophy more times than Tottenham, but seven different clubs have tasted success since 1991.
The North London side take on the Blues in Sunday's fixture, with the winners set to meet either Everton or Liverpool in the final.
The London rivals have drawn both Premier League games against each other this season but Redknapp believes his side have the quality to progress.
Capable
He said: "On our day we can beat Chelsea. We can beat anybody within reason. In the Premier League we're capable of beating anybody.
"Let's hope it's our day. There's not a great deal between the teams.
"In all honesty, they've got the medals to show for it with what they've done over the recent years. They've been there and done it all have Chelsea.
"Tottenham is a club that has won two trophies since the FA Cup in 1991 and they're both Carling Cups. It's about time Tottenham won another trophy and it'd be a great trophy for us."
Spurs go into the clash in poor form in the Premier League, having won just twice in their last 10 games.
Chelsea, Newcastle and Tottenham are battling for fourth place with the latter currently holding that position.
The club were in the Champions League during the 2010/11 season and hope to be there again in the next campaign, but Redknapp wants Spurs to consistently challenge for trophies and be in Europe.
Improving
He said: "You have to keep improving. If we want Champions League football again next season we need to improve the squad again in the summer.
"Man City and Man United are there every year, Arsenal have not been out of the Champions League since it started.
"Chelsea are not used to being out of it. Liverpool are only going to get stronger. Newcastle are improving.
"So if you want to be a top-four team and start winning championships, you've got to push on and raise the bar because that's the only way you're going to do it. It's difficult."