Redknapp fumes at referee
Harry Redknapp could not hide his anger at Martin Atkinson after the referee awarded a controversial goal in Spurs' FA Cup semi-final loss to Chelsea.
Last Updated: 16/04/12 3:24pm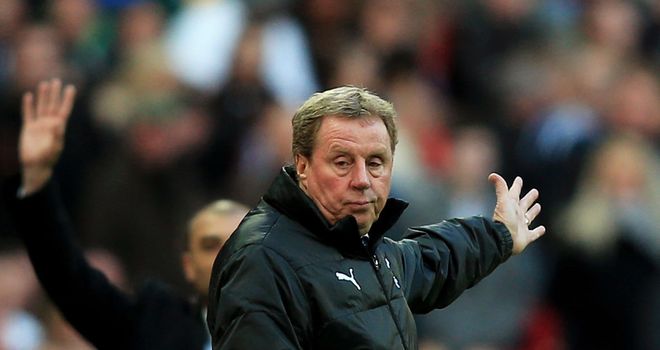 Tottenham Hotspur manager Harry Redknapp could not hide his anger at Martin Atkinson after the referee awarded a hugely controversial goal in their FA Cup semi-final loss to Chelsea.
Chelsea were edging the contest at Wembley 1-0 thanks to Didier Drogba's first-half opener when Atkinson awarded the Blues a second through Juan Mata in the 48th minute.
The Spaniard shot goalward through a crowded penalty box but Benoit Assou-Ekotto cleared the ball with his feet while on the turf before the ball crossed the line.
Despite having a clear sight of the goal, Atkinson almost instantly blew his whistle to award the west London club the goal, a move which infuriated Tottenham's players.
The ghost goal caused Redknapp to throw his players forward and, although they pulled one back, their over-exertion cost them and Chelsea went on the rampage to claim a 5-1 win.
"The second goal was a disaster," said Redknapp.
"It was nowhere near a goal. It was a huge mistake.
"We looked too open after that and they picked us off. It was key.
"He's (Atkinson) made a big mistake. I don't see how he can give the goal.
It's nowhere near over the line.
"There were bodies on the line and the ball couldn't possibly get over the
line.
"He must have (guessed). He can't have been sure."
Tottenham's players were incensed at the decision and surrounded the referee and assistant Mick McDonough after the 'goal', but it was already too late. It had been given.
Apology
Redknapp revealed Atkinson had approached him afterward to apologise.
Redknapp added: "I spoke to him. He says he feels worse than I do. I said: 'I don't think so'.
"He knows he's made a mistake and he says he'll have a bad week as well."
FIFA met last Friday to discuss the introduction of goal-line technology and tests will continue this month before a decision is taken in Kiev in July whether to implement technology, which is already used in a host of other sports.
For Redknapp, its introduction cannot come quick enough.
"Goal-line technology has to come into the game. You can't keep having
situations like that," he said.